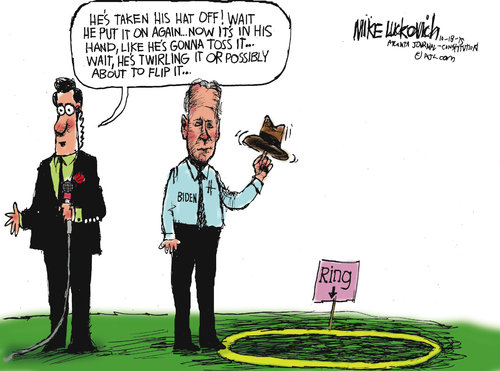 … have the DC media waiting on tenterhooks. And even they are beginning to find the whole thing a bit of a joke!
Three sources close to @VP telling me he's expected to announce he is running but the sources are all urging caution on 48-hr timeline

— Ed Henry (@edhenry) October 19, 2015
The three sources say @vp telling supporters in calls planning to jump in race but not rushing — watch Sat Jefferson Jackson dinner iowa

— Ed Henry (@edhenry) October 19, 2015
My sources close to the @vp confirm that five days from now, it will in fact be Saturday. https://t.co/GPkT6binID

— Daniel Drezner (@dandrezner) October 19, 2015
We are now on our 12th timeline for a Biden decision https://t.co/oefiDAPIFl pic.twitter.com/ezalKXftgy

— Aaron Blake (@AaronBlakeWP) October 19, 2015
… Since the beginning of the year, there has been a wide array of reported and speculated rumors about when a Biden announcement would be coming. In February, Biden said "end of summer," which of course has come and gone. Since then, the window has narrowed and moved and expanded repeatedly — not always thanks to direct comments from Biden or his aides, but in the reporting of the media.

Notice that the timeline eventually began to converge onto late October. We can put this into mathematical terms. As the date (x) has approached Oct. 31, the decision has approached 1…

Historians will remind you that, when he ran for president in 1984, Walter Mondale received the least electoral votes of any candidate since 1936.
Pelosi on Biden running: "Don't hold your breath." Then quickly adds: "I have no idea." #TTF @TexasTribune

— Peter Hamby (@PeterHamby) October 17, 2015
Biden decision by "end of July" "end of sept" "end of summer" "by Oct. 1" "after weeklong retreat" "well into fall" http://t.co/7a9E1B9sKF

— Sam Stein (@samsteinhp) October 19, 2015
Nancy Cordes at CBS, yesterday:
A close confidant and longtime adviser of Joe Biden's who spoke to him recently says Biden, as vice president, feels he has earned the right to make a decision about his political future on his own timetable.

"He (Biden) really does not care about John or anyone else," the source said, referring to John Podesta, Hillary Clinton's campaign chairman. "He does not like bullies and will not be bullied. He has never really been part of the Democratic establishment and could care less about it." Podesta told multiple media outlets last week that it was time Biden made a decision about whether he's running for the presidency…

Democratic frontrunner Hillary Clinton was also asked whether it was decision time for Biden. "Whether you are encouraging or not, there comes a time where a decision has to be made. And certainly I'm not in any way suggesting or recommending that the vice president accept any time table other than the one that is clicking inside of him," she said on CNN's "State of the Union." "He has to make this decision."…
lolololololololololololol http://t.co/ic9WOWiO4p pic.twitter.com/HWMB3e8zwi

— Simon Maloy (@SimonMaloy) October 19, 2015
BREAKING: Joe Biden will soon announce he is running. Unless he doesn't. We'll let you know.

— Karen Tumulty (@ktumulty) October 19, 2015
The WSJ has written basically the same story on Biden every week. pic.twitter.com/3mDSBxyQ8v

— Andrew Kaczynski (@BuzzFeedAndrew) October 18, 2015
If Biden gets in, he can't run a shoestring campaign operation: Secret Service won't let him fly commercial. https://t.co/q9U6sGcHdX

— Annie Linskey (@AnnieLinskey) October 17, 2015
From Linskey's Boston Globe article:
… Biden has sat on the sidelines pondering a presidential run in the past — only to decide to stay out of the race. During the summer of 2003, then-Senator John Kerry was worried that Biden would run. Kerry's campaign already was facing a surprisingly strong bid from a populist outsider, Howard Dean.

If Biden takes the plunge, he would be months behind all of his competitors. At 72, he would be one of the older presidential candidates in the field. Only Sanders, at 74, is older. As vice president, he would be the candidate most connected to President Obama's record, including a mammoth trade deal that's proven deeply unpopular with segments of the Democratic base, especially organized labor.

It's been more than six decades since a sitting vice president tried and failed to win his party's presidential nomination, according to Joel Goldstein, a professor at St. Louis University School of Law and vice presidential scholar.

That person was Alben Barkley, who was Harry Truman's vice president.

Barkley lost, Goldstein said, for three main reasons: He got in the race too late, was considered too old, and he had trouble winning support from labor unions.
Of course, Biden's already gotten encouragement from some labor unions, so there's that in his favor.
In the time since Biden started dithering about 2016, Canada will have started and finished an entire election. (8/4 to 10/19.)

— daveweigel (@daveweigel) October 18, 2015
And big corporations actuallly pay good money to be mentioned in this dreck! pic.twitter.com/zWZ6J25KIP

— Billmon (@billmon1) October 17, 2015
I'm begging to wonder if Paul Ryan and Joe Biden are just stringing everyone along because of a bar bet between the two of them.

— Daniel Drezner (@dandrezner) October 19, 2015
Yet to really see or hear of anyone who is not a pundit/Beltway pro who wants Biden in. So…there's that.

— Clara Jeffery (@ClaraJeffery) October 19, 2015
Once Biden decides, the press will immediately shift to nothing but, "Will ______ drop out? stories.

— Bob Schooley (@Rschooley) October 19, 2015