Balloon Juice's own presidential aspirant, ¡Baud! 2016, reminded me of something I meant to FP yesterday:  how red state Republicans have chosen to pay — hugely — for the privilege of denying their fellow Americans access to health care.  Let me turn the mic over to Kevin Drum:
In 2015, according to a survey by the Kaiser Foundation, spending by states that refused to expand Medicaid grew by 6.9 percent. That's pretty close to the historical average. However, spending by states that accepted Medicaid expansion grew by only 3.4 percent.

In other words, the states that have refused the expansion are cutting off their noses to spite their faces. They're actually willing to shell out money just to demonstrate their implacable hatred of Obamacare. How much money? Well, the expansion-refusing states spent $61 billion of their own money on Medicaid in 2014. If that had grown at 3.4 percent instead of 6.9 percent, they would have saved about $2 billion this year.
Two billion eh?  Pocket change!  Take it away, Kevin:
The residents of every state pay taxes to fund Obamacare, whether they like it or not. Residents of the states that refuse to expand Medicaid [22 of them — map here] are paying about $50 billion in Obamacare taxes each year, and about $20 billion of that is for Medicaid expansion. Instead of flowing back into their states, this money is going straight to Washington DC, never to be seen again.

So they're willing to let $20 billion go down a black hole and pay $2 billion extra in order to prevent Obamacare from helping the needy.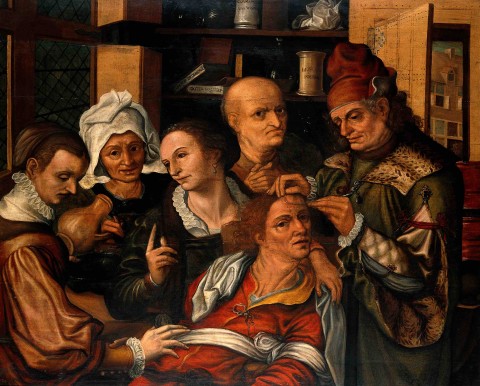 Ladles and Jellyspoons!  Your modern Republican party!  Ready to fork over handsomely to make sure the wrong people suffer.
PS:  Let me call out the could-be great state of Texas for vicious derp on a grand scale:
Statewide, Texas hospitals had to eat 5.5 billion dollars in uncompensated care last year. The reason is this – after the Affordable Care Act passed, the amount of money the federal government provides to hospitals for uncompensated care was significantly reduced. It's cause and effect; if 9 out of 10 Americans have health insurance, the amount of uncompensated care hospitals have to provide goes down. But when the U.S. Supreme Court gave the individual states the option to opt out of part of the Affordable Care Act, then-Texas Governor Rick Perry could not opt out fast enough.
Vote, folks, as if your life depends on it.  'cause it very well may.
Image: Pieter Huys, A surgeon extracting the stone of folly, before 1584.