Many of you long time readers remember Larime, the artist who painted the following portraits of our dearly departed Tunch: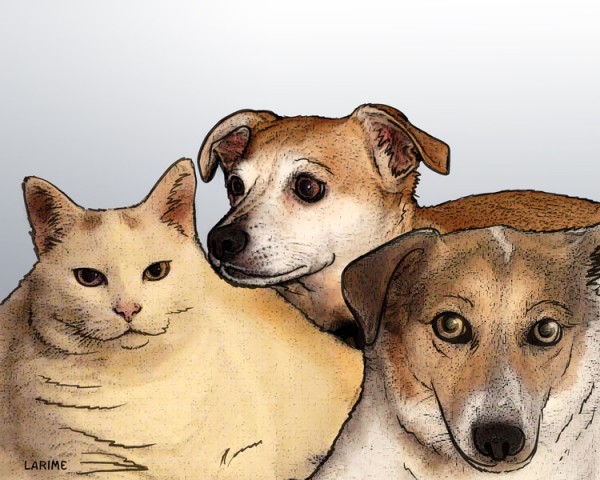 Larime needs your help:
My wife Sylv has cancer and cannot get insurance to cover chemo, so we have to pay out-of-pocket. She NEEDS chemo, and soon. The somewhat long story is explained below.

Sylv was born in Canada and came to the US in 1994, back when Canadiansdidn't even need passports to come here and well before 9/11 complicated immigration. She came because she was offered a job speaking French for a company in Indianapolis that had won a contract in Eastern Canada, and they were going to handle her immigration paperwork. The business went under before any of that ever happened.

She spent what little she had to get here and was now stuck – being estranged from her family, she had no 'home' to go back to. She lived with friends, providing daycare while they worked, and we met online in 1996. A year later we were married.

Being disabled myself, we never had much money since she couldn't work and I had a hard time getting anyone to hire me. We were never able to file her immigration papers, and despite 18 years of marriage, she still has no legal status. Homeland Security knows she's here and has no issues with it, but neither can she be giveen any benefits or even buy insurance. Without $2k AND a sponsor making over $50k a year willing to take responsibility for her, she can't get citizenship.

Last December she was diagnosed with endometrial cancer. We can only get her Emergency Medicaid, which paid for the surgery necessary to remove a 15cm tumor and a full hysterectomy, but it won't cover chemotherapy, and without it the cancer has started to return and spread.

We have chemo lined up, but we need help raising the funds to pay for it. The treatment itself isn't terribly expensive, but the booster shot that goes with it to keep her from getting sick and the PET scan needed to see if it's working are. Here's the breakdown of the three main costs for every three weeks, which needs to be repeated for a total of six rounds:

Treatment: $414
Booster: $3800
PET scan: $1600

Total: $5814 a round

That's about $30k for the full six ronds.

There are additional costs, such as placing a port to put the chemo feed into, blood tests and such, that will crop up over time.

Some of this we MAY be able to get at low or no cost, but her citizenship status makes qualifying for most programs difficult.
So if you can throw in ten bucks, it will be put to good use.