If this PPP poll of NC Republicans is any indication, a Clinton presidency in 2017 is going to be splendiferous quantities of awesome from day one.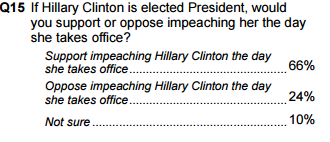 Dragon and Phoenix must fight, for it is the way of all things. They have fought since the dawn of time and will still battle across the skies long after the memories of our deeds have faded into dust.
Or something like that.  I know it involves eternity and mythical creatures.  You know, like "moderate Republicans" and stuff.
Open thread.