Earlier, valued commenter Germy Shoemangler alerted us to the location of a leaked PowerPoint deck from Jeb's recent "Imma Tell My Mom, Dad and Big Brother You Were MEAN to Me" conference. There are 112 slides in the presentation. One hundred! And twelve!
Until I saw that, I didn't think it would be possible for me to feel pity for the soulless fat-cats, sundry hucksters and hired political hatchet-men aboard the HMS Jebtanic. But damned if I didn't experience a twinge of sympathy, imagining their despair as their beady little eyes adjusted to the dimmed lights and fixed on the slide counter at the bottom of the projection screen.
There's a yawning chasm between my politics and values and theirs, but sweet merciful Christ, we're all human beings! Anyhoo, here's one of several slides that showcase Rubio's deficits in a bid to stop donors fleeing toward the diminutive upstart (remember, this was before the debate):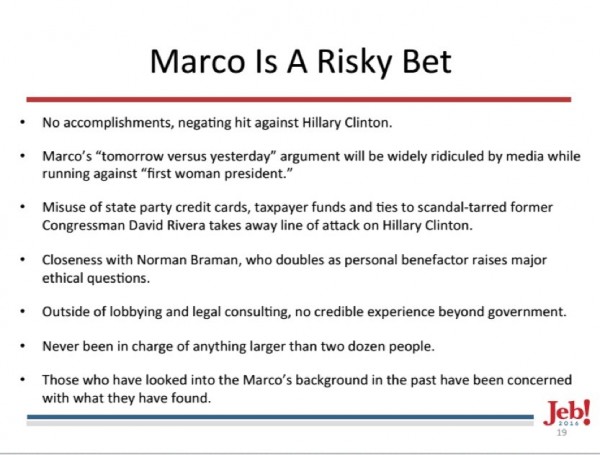 Another slide calls Rubio the "GOP Obama," which illustrates how perfectly insane these miserable fucksticks are. "GOP Obama"?!?!? As if, motherfuckers!
I take back what I said earlier about our common humanity. They deserved every moment of soul-crushing boredom they endured during that interminable slideshow. I hope the tuna salad sandwiches on the catered snack trays were both stale and soggy and that the cokes were flat, with nary a drop of bourbon in the room to ease their pain.