Jezebel has their top 10 reader horror stories up here. Meh. I think we can do better, Juicers. Anyone got any true-life tales of terror to tell this Halloween? I'll start us off, even though mine isn't really all that scary. I've alluded to it briefly before, but here it is in detail:
My maternal grandmother is from the Carolinas. She was a schoolteacher when my sister and I were growing up, so she had summers off, and she'd take us on road trips to go camping, see historical sites (she was a history teacher) and visit relatives.
One of her cousins had inherited the old family manse, which was built in the 1820s (I think):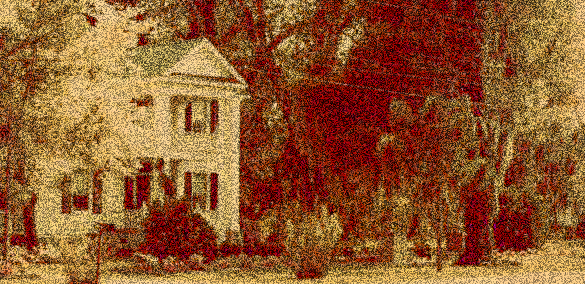 Everyone assumed Cousin Howard was gay because he never married or had a girlfriend that anyone ever heard about, and he was a natty dresser with a flair for decorating. Back then, people made those kinds of assumptions.
(Now that I think back on it, Cousin Howard's speech and mannerisms were somewhat reminiscent of Senator Lindsey Graham's, another confirmed bachelor from the Carolinas. So maybe things haven't changed so much after all, as far as assumptions go.)
Anyhoo, even though we lived 500 miles away, the old family house figured prominently in our lives since Grandma and Cousin Howard were close. He was an uncle figure to my mom and her siblings as well as to the kids of my generation, and we visited back and forth.
Cousin Howard had lovingly restored the old house and decorated it in antebellum style. The beds all had high, carved wooden headboards, and the rooms featured heavy, imposing furniture. We'd grown up hearing stories about this house being haunted, and it looked the part.
One of the ghost stories we'd heard over the years involved sightings of the translucent figure of a Civil War-era female relative, who was seen frantically rushing down an upstairs hallway and entering a bedroom to hide her jewelry from marauding Yankee soldiers, who were approaching via the river across the road from the house.
One summer, Cousin Howard was hosting a large family reunion, and Grandma, my sister and I went up a week early to help him prepare for the big shindig. My sister and I were around 11 and 12 years old at the time — prime age for getting freaked out by ghost stories.
We refused to sleep in separate rooms since we were scared shitless. In fact, I don't think either of us went upstairs without the other the whole time we were there, day or night. It was a creaky old house, and we frequently heard what sounded like footsteps on the stairs and in the hallway.
One night when we couldn't sleep but had nonetheless been banished upstairs, we sat on the big bed playing crazy eights. I had my back to the door, which opened out into the hallway, and my sister was facing me.
Along the wall to my left was a tall antique breakfront writing secretary with its swing-down desk surface closed. I'd used it earlier to draw and write letters and had shut it, even though it was customarily left open, because I kept running into the corner of the desk.
My sister and I were engrossed in our card game when suddenly we heard what sounded like footsteps running up the stairs and toward us down the hall. We froze, looking at each other, terrified. I was too afraid to turn around, but I could see my sister looking past me toward the door and seeing something that scared her so much that she dove under the covers.
The hair on the back of my neck and arms was standing up, but I still would not turn around. I bowed my head and stared at the cards on the bed between myself and the trembling lump under the covers that was my sister and kept repeating to myself, "It's not real! It's not real! It's not real!"
I heard the steps coming behind me, then the creaking noise of the desk surface on the secretary being lowered. Even though I didn't want to see it and didn't turn my head, out of the corner of my eye, I saw a figure at the secretary. I closed my eyes and screamed, which set my sister off, so we were both shrieking like banshees.
That brought Grandma and Cousin Howard upstairs at a rapid clip. We told them what happened — my sister's account of the figure she had seen before she hid under the covers generally matched mine: an indistinct, misty figure in a floor-length dress with her hair in a bun on top of her head.
The secretary desk was closed, but Cousin Howard asked me if I saw what the figure did when she was at the secretary. I told him no — I'd only caught a glimpse of her before closing my eyes and screaming.
Then Cousin Howard opened the secretary and showed me that there were two compartments built into the structure of it and cunningly hidden — you could own the thing for a hundred years, use it daily and never know they were there. He said that's where our Confederate ancestor had supposedly squirreled her jewels away.
So did we see a ghost? I don't think so. We were a pair of kids hopped up on M&Ms and supernatural stories. I think it was a combination of a creaky house and the power of suggestion, honestly.
Many years later, Cousin Howard died, and he left the antique secretary from the old house to me. It stands not 15 feet away from where I sit writing this now. As far as I know, the ghost did not follow it. Perhaps she roams the hallways of the old house even now, looking for it.
Your turn!