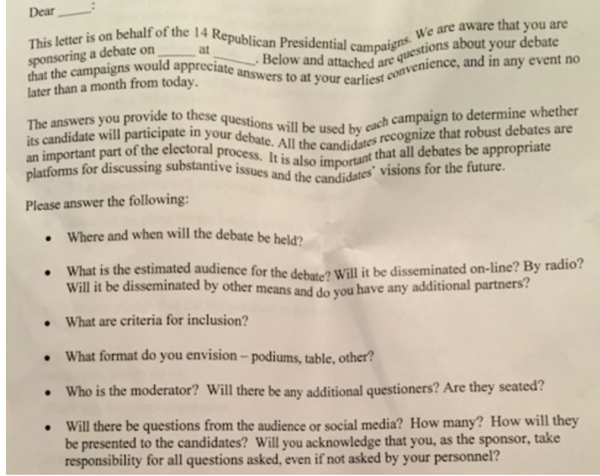 Dave Weigel has obtained the first sacred draft of the letter that the clown wranglers running Republican campaigns are going to send to networks that want to host debates.  It's a reasonable and sane document, since, presumably, the candidates and their handlers realize the immense value of the free media they're getting from the debates, and they don't want to fuck up that meal ticket.
In yesterday's post about the debates, I made an offhand comment that I thought was pretty uncontroversial: the Democrats should be matching Republicans 1:1 on debates. Some of you disagreed, which I think means you've swallowed whatever horseshit reasons the Clinton campaign and it's honorary chairperson, Debbie Wasserman-Schultz, are spreading for Democrats hiding out while the Republicans hog all the free media.  Hillary did great in the last debate, and she will continue to do so. Having Bernie Sanders on the same stage as her is a win for Democrats because his policy proposals are interesting and popular.
The consultants who are advising the Clintons will always want to play it safe and run an inevitability campaign where Hillary's appearances are carefully scripted and stage-managed. But in the past couple of weeks, the (excellent) press that Hillary's gotten has all been because she's gone outside of her comfort zone and stretched her considerable political muscle, both at the debate and at the Benghazi shitshow. These type of appearances are the only way that Democrats will get the millions of dollars of free media the Republicans are currently enjoying.
If you don't believe me, look at the front page of Post Politics: there are 10 stories on that page, 9 of which are about the Republican campaign. This isn't only because the Post and the DC media are a wholly-owned subsidiary of the Republican/Corporate complex: Democrats just aren't generating much news. Scripted campaign appearances are dog bites man; debates at least have the possibility of a man bites dog event. And more debates also give the media cover to write the real story of the campaign: the Republican Party has gone insane.  Look how long it took them to own up to the obvious fact that the Benghazi hearings were a political joke. Perhaps if there are enough Democratic debates, some Republican will say that the Democrats appear sane, thus authorizing a reporter to state that fact.