So it's here — Publication Day!  The Hunt for Vulcan is now live.
There's a bit of backstory on how the book came to be over at Gizmodo (thanks JeffreyW!). Spoiler alert: Ta-Nehisi Coates bears part of the blame.
More backstory on Einstein's role in all this here.
And last, tonight (in an hour and a half actually) this: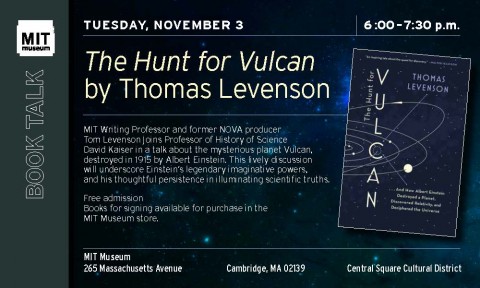 If that doesn't read too well:  I'll be talking about the book with my colleague, the wonderful physicist and historian of science David Kaiser at 6 p.m.  We'll be at the MIT Museum — free and open to the public.
If you can't make it, there will be alternatives.
And with that:  shameless self promotion at least temporarily brought to a halt.