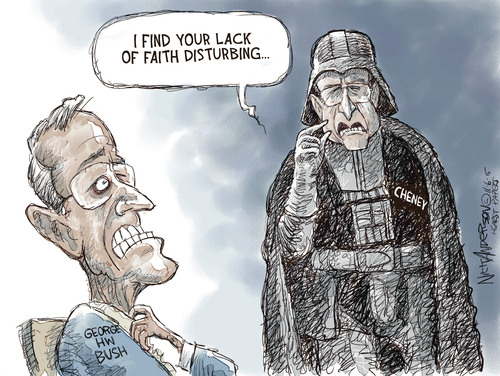 Wow –> This Rumsfeld stmt to NBC on Bush 41: "Bush 41 is getting up in years and misjudges Bush 43, who I found made his own decisions"

— Mark Murray (@mmurraypolitics) November 5, 2015
@mmurraypolitics and Don Rumsfeld is 83; just a Spring Chicken and Hawk!

— Fred B. (@ebayjick) November 5, 2015
A Democrat once said "Victory has a thousand fathers, but defeat is an orphan." Repubs prefer to think of defeat as a bastard child, and the Bush Crime Cartel is busily Jerry-Springer-ing its paternity.
Mr. Pierce explains:
It seems that Poppy Bush sat down with Parson Meacham to hash out Poppy's life. And who could be a better wingman for the job than the Parson, who's made a lucrative business out of the Great Man Theory of American history? In the course of their discussions—which, alas, have led to a book-like object—the elder Bush has some harsh words for a certain former secretary of defense of his casual acquaintance.​​

"I think he served the president badly," Bush told Meacham, Peter Baker of the New York Times reported, quoting the book. He added: "I've never been that close to him anyway. … There's a lack of humility, a lack of seeing what the other guy thinks. He's more kick ass and take names, take numbers. I think he paid a price for that." (Rumsfeld resigned as secretary of defense in 2006 after conditions in Iraq deteriorated. He declined comment about the biography to Fox News…
.@mmurraypolitics Didn't Jeb just say the other day he'd kill for his father? Better watch out Rumsie!

— H— (@OHenryHernandez) November 5, 2015
George HW Bush v Rumsfeld animosity stretches back decades. Bush thought Rumsfeld had him appointed CIA Dir to sideline him politically

— Stephen Hayes (@stephenfhayes) November 5, 2015
But then again…
… Poppy ripped Donald Rumsfeld unconditionally, and he said some tough things about Cheney, too, but he also made sure to point out that C-Plus Augustus ran his own shop. Jeb (!) made the same point about who was in charge, and went out of his way to say nice things about Cheney besides…
Why, a political cynic might almost suspect that Darth Cheney had squirreled away some "oppo research" in that man-sized safe he had removed from the Naval Observatory on his way out the door in 2009! Yet however could a man who'd gotten his start in national politics as a CREEPster in Richard Nixon's administration ever stoop to such low, ungentlemanly tactics?
***********
Supplemental alternate-history weirdness:
Wow. What could have been https://t.co/VfUXfvkk5k pic.twitter.com/Ez3ujbaJ0Y

— Sam Stein (@samsteinhp) November 5, 2015