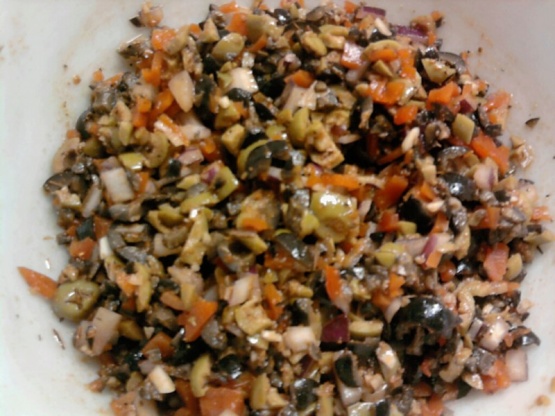 In the comments to Betty C's sandwich post on Tuesday I promised I'd post my muffaletta recipe later in the week. Since things seem to be a bit slow, I think now is the time and here is the place! I learned how to make muffaletta while I was doing my masters in comparative religion. I worked in a specialty, gourmet grocery and the catering manager, who managed the deli, butcher shoppe, and cheese department would make it based on her family's recipe. She was an excellent caterer and a really good person. And she liked her muffaletta with bite! And that's how I make it. You've got two serving options with it: fresh or let it sit and ferment for a few days. I prefer the former. To me it has a cleaner, sharper taste. But if you prefer your muffaletta fermented, that's okay too.
Muffaletta:
2 8 oz cans of black, pitted olives
2 8 oz cans of green, pitted olives
Olive oil (to taste – this'll make sense in a bit)
Ground Parmesan Cheese (to taste – this'll make sense in a bit)
Red pepper flakes (to taste – this'll make sense in a bit)
Directions:
Drain the green and black olives and run them through the robo-chopper until minced (medium – you don't want big chunks, but you don't want paste/tapanade either). Or, if you prefer, mince them by hand. Place the minced olives into a mixing bowl and add the ground parmesan cheese and red pepper flakes to taste and combine all ingredients thoroughly. Then drizzle in the olive oil while mixing until everything is basically in suspension. You don't want it oozing oil, nor do you want it looking like just chopped olives. Once you have everything to your preferred taste/level of heat, refrigerate.
Once the muffaletta is chilled there are several ways to serve it. Before I get to the classic sandwich, you can also take a sourdough round, or any other type of bread round, slice the top off, and scoop off the inside. Then fill with the muffaletta and dice up the scooped out bread to dollop the muffaletta onto. Its also quite good with non-smoked brisket or other roasted meats in place of horse radish.
For the muffaletta sandwich:
Ingredients:
One large sourdough round
1/3 lbs of thinly sliced (but not shaved!!!!) genoa salami
1/3 lbs of thinly sliced (but not shaved!!!!) capicola
1/3 lbs of thinly sliced (but not shaved!!!!) mortadella
1/3 lbs of thinly sliced (but not shaved!!!!) provolone or mozzarella
Directions:
Slice the top off the sourdough round about 1/3 down and set it aside. Scoop out about 1/2 to 2/3 of the remaining bread inside the bottom of the round. Layer the cheese, the mortadella, the capital, and the genoa salami – the only thing that matters in this order is that the cheese goes in first and is on the bottom. Then scoop muffaletta on top of the top layer of meat – as much or as little as one prefers. Place the top of the sourdough round back onto round. Wrap in wax paper, place on a plate or a tray, and set something heavy on it. If you're considered about food sanitation and you want to use, say a heavy, hardback book, then wrap it in silver foil. Place the wrapped and weighted sandwich into the refrigerator. Let sit overnight. Remove from fridge, slice, serve, and enjoy.
Bon appetit!