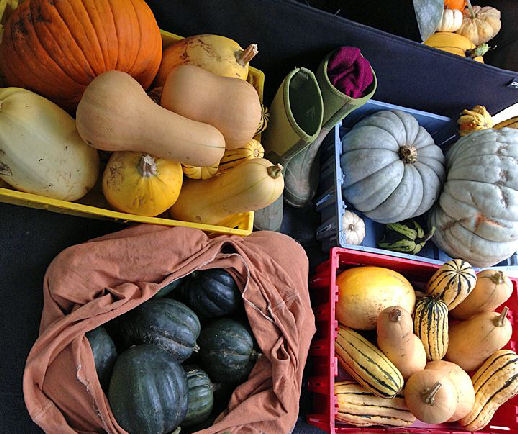 From faithful garden correspondent Marvel:
Late harvest activities around here are always interesting, often bountiful and sometimes tres photographic.

A couple of weeks ago I pulled up the last of the cauliflower and boy-o-boy did it benefit from a few extra weeks in the ground. I had cleared out a couple of crispers for the yellow beauties, but still had to quarter 'em before I could stow them all away.

Two of my friends and I get to glean squash from a farmer friend's field after he's finished his big harvest. We always start out with reasonable expectations, but as we walk the acres, we get more & more excited; more & more greedy [top pic]. We wind up filling our trucks & homes with a lovely assortment. After wrangling them home, I wash 'em with a weak bleach solution & stash 'em under the nearest guest bed. (The cool thing about storing Winter squash is that they have no special temperature or humidity requirements. If we're comfortable, THEY're comfortable.)

A friend with whom I trade apples & the loan of a steamer/juicer contraption keeps me up-to-here in fragrant quinces. (They smell so good, after I pick them up, I leave 'em in the car for a day — the car smells TERRIFIC for weeks after!) This year, in addition to processing a gallon on ruby-colored juice (for jelly), I made quince paste ("membrillo") — a thick, sweet spread that tastes grand served in slices over a salty cheese.
***********
What — if anything — is going on in your garden(s) this week?