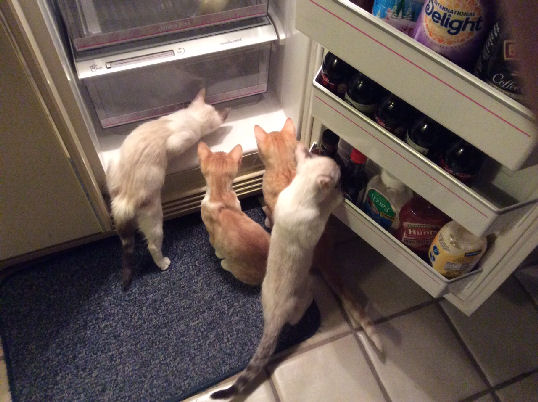 Praise goddess, and more immediately cat-wrangler Marc, for some happy news to start the day:
The red kitten, who I called 'Rusty' has gone to his furever home. Ohana will be going home with my sister at Thanksgiving. As for the other three… I had two people (for different reasons) have to back out of taking a kitten, and then two people at work decided that they were no longer interested in getting a kitten. So, after Thanksgiving I'll have Miri and three kittens. If I keep 'em much longer, I might as well accept this as my 'crazy cat person' starter kit. I've already named them, so that isn't much of a leap.

They are still growing and learning by leaps and bounds. Tigger is the biggest of the bunch, but Sylk is still the leader when it comes to getting into stuff – she was the escape leader when I had them penned in the bedroom. They seem a little more rough and tumble when they play than when I did the video, plus I don't have a place to feed Miri, since they are able to get up on the kitchen table where I'd been feeding her. They still sometimes kitten pile when they sleep, but they are getting too big to do it on the pet beds I have. Flynn and Tigger will sometimes sleep on their back, but the girls have yet to do so (at least when I'm around). Once in a while Tigger will sleep in the cat tree with his head over the edge and softly snore – very cute.

The only areas still off limits are the Guest Bedroom (trying to keep it cat hair free), and the back patio. I don't want them getting ideas about the outdoors, since I live next to a very busy street. So far, so good.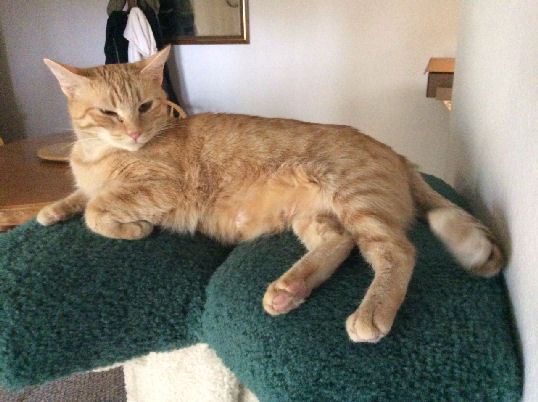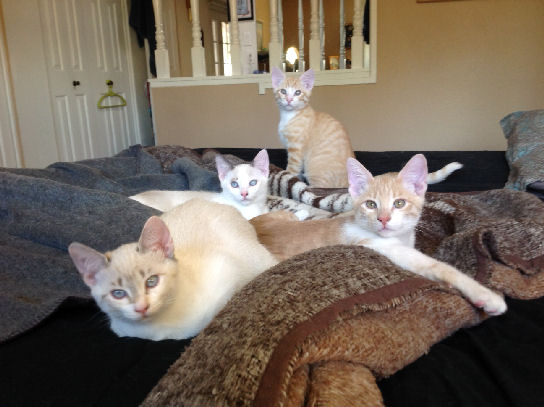 ***********
Programming note: Some of the photos are going to show wrong-side-up on some devices… I reoriented the ones that Marc sent me from his cell, and last time I did that for a Garden Chat some people's high-class iDevices flipped them back the way the machine wanted.
Apart from that much-needed respite, what's on the agenda for the day?