Snowing hard in Des Moines tonight, but the ballroom almost full at the Presidential Family Forum. People still filing in.

— McKay Coppins (@mckaycoppins) November 21, 2015
Wait why is this in a Michael's? pic.twitter.com/hzHRGwtuuc

— Katherine Miller (@katherinemiller) November 21, 2015
While Don "Il Douche" Trump was out this weekend riling up the Southern rubes for the tv cameras, the rest of the Repub candidates were busy smarming Iowa's god-botherers. Mr. Pierce reports on "A Particularly Ugly Dinner with Ted Cruz, Ben Carson, Mike Huckabee and the Gang":
DES MOINES—On Friday night, seven of the Republican contenders for president gathered around a mock Thanksgiving table on a stage at the front of an enormous ballroom, which was filled to the gunwales even though the year's first winter storm had come rolling out of Nebraska that afternoon. "Satan," joked Bob Vander Plaats, "is trying to disrupt our plans tonight. But it was laid on my heart that the people who would show up tonight were the people who really love this country."

Vander Plaats is the head of the Family Leader Foundation. If you are a Republican candidate for president, and you run afoul of Vander Plaats and his legions, you are not going to get out of Iowa alive. They shake the hay with more enthusiasm, they bang their Bibles more vigorously than just about any group of people anywhere in the country, and they control the caucus process, if anyone does. Which is why the seven people who want to be president were sitting there at the table behind papier mache autumn leaves with Frank Luntz sitting in the Daddy chair at the end…

And, at the beginning, when the gathering was disrupted several times by immigration rights protesters, Mike Huckabee took advantage of the situation to remind people that this never happens at liberal gatherings, as though the Republican party wasn't the breeding ground in which the very concept of ratfcking was born, and as though there weren't all those patriots showing up at events early in the president's term with questions about health care reform and automatic weapons. But the whole point, according to Luntz and the other folks at table, was to demonstrate Christian civility in the campaign, and to show those showboating Leninists at CNBC how to run a political discussion…

There was unction in the extreme, and no little sanctimony, and the now very familiar recitation of the dystopian landscape created by eight years of the Obama Administration and of the nearly unstoppable acceleration of the handbasket taking the country to hell. The Savior was summoned on a number of occasions, not all of them relevant to his gospel mission on Earth. But the real meat on the Thanksgiving table got served up when Luntz wrenched the discussion away from sacred platitudes and into the realm of national security and foreign affairs. The clouds of incense were dispersed. The preacher masks all dropped. To a person, the seven Republican candidates came right up to the edge of accusing the president of the United States of treason and of being in sympathy with the murderers in France and in Mali. Right up to the edge, they all walked. Then they winked and took baby steps back, but everybody in the hall, all of the good Christians who'd come out in the snow, got the message…
Huckabee notes protesters are free, won't get shot, and jokes "I know there's some people in the audience that wish they would," to laughter

— Alexandra Jaffe (@ajjaffe) November 21, 2015
Steve Benen, at his MSNBC blog:
… Right Wing Watch explained this week a little about the man who ran the show: ""Not only does Vander Plaats want to remove from office or defund the courts of judges who find in favor of marriage equality, he believes that anything, like gay marriage, that 'goes against the law of nature' is by definition unconstitutional . He argues that the government is an institution of God and therefore its purpose is 'to promote righteousness' and to apply 'God's principles and precepts.'"

And it's against this backdrop that seven contenders for the Republican presidential nomination – Ben Carson, Ted Cruz, Carly Fiorina, Mike Huckabee, Rand Paul, Marco Rubio, and Rick Santorum – appeared at last night's gathering, hoping to earn an endorsement. (In 2008, Vander Plaats backed Huckabee, who won that year's Iowa caucuses, and in 2012 he backed Santorum, who won that year's Iowa caucuses)…
So, as I'm sure you're as happy as I am to note: Losers. Very sanctimonious pious losers, though, who can be counted upon to deplore how all Muslims are hate-driven cultists who let their "faith leaders" trap them in medieval squalor in the name of an authoritarian god.
Carly Fiorina: "People of faith make better leaders. Because faith gives us humility… faith gives us empathy…faith gives us optimism."

— McKay Coppins (@mckaycoppins) November 21, 2015
Because if there's one word that first comes to mind in connection with Carly Fiorina, it's "humility", or maybe "empathy." Bloomberg Politics:
…[T]he candidates spent most of the evening agreeing with each other and condemning President Barack Obama in what was more conservative rally than debate.

The Republicans called for redefining marriage to be between a man and a woman, restricting abortions and strengthening the traditional family during a forum in Des Moines sponsored by a evangelical conservative advocacy group.

"If the body of Christ rises up in one and votes our values, we can turn this country around," Senator Ted Cruz of Texas, one of the evening's dominant performers, said in his closing remarks.

Another common theme: the call for stricter limitations on refugees entering the U.S. in the wake of the terrorist attacks in Paris and an end to what the candidates all labeled as an overly restrained response by Obama….

Obama and Clinton, the front-runner in the Democratic presidential race who served as the president's first secretary of state, took alternating turns as punching bags during the two-hour session. But Obama was the candidates' favorite target as they zeroed in on what they view as the president's reluctance to take on Islamic terrorists.

"He hasn't even defined what victory means," said Senator Marco Rubio of Florida. "He's a bad president."

Former Senator Rick Santorum of Pennsylvania took a darker view. "This president has started World War III," he said….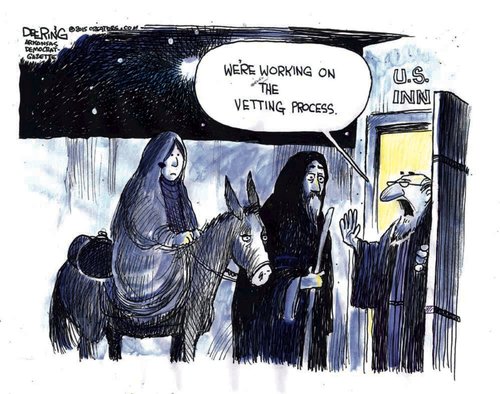 (John Deering via GoComics.com)
Santorum just said he urged George W. Bush to stop referring to a war on terror and instead call it a war on radical Islam.

— McKay Coppins (@mckaycoppins) November 21, 2015
Wholly self-interested Congressman Steve "Pig Muck" King has made his choice, according to Politico:
… Influential Iowa vote-broker Steve King, who endorsed Cruz last week, pointed to a new online NBC poll that showed Carson dropping, and said he attributed that slip to renewed interest in national security and Carson's struggles with the issue…

"They'll often say, all politics are local, politics are domestic, domestic politics will elect the next president. I'm not sure that's right. Not when you see the pictures of the bodies in places like Paris and around the world, Beirut, now Mali today," King said. "When we see that, and we're almost guaranteed that's going to continue until we defeat [terrorists], that makes a candidate that's strong on foreign policy, strong on national defense…that makes that candidate stronger."

"Being [from] outside the Beltway doesn't help with that. Being inside the Beltway, as long as you're not ruled by that, I think does help," King said…

At two campaign stops on Friday, followed by an appearance at a conservative cattle call, Cruz tried to highlight just how "studied" on both terrorism and the refugee crisis. And at each site, King stressed that part of the reason he is backing Cruz is that he trusts the Texas senator to play hardball with world leaders, a qualification that resonated with the hawkish mood of the crowds…
Ted Cruz #humblebragging: "This week, President Obama twice attacked me overseas."

— McKay Coppins (@mckaycoppins) November 21, 2015
Winner(s) of the evening, per NBC News:
… "I have to complement you on the civility and decency you showed each other tonight," moderator Frank Luntz said…

Sen. Ted Cruz had the sharpest remarks of the night when he accused President Obama of "serving as an apologist for radical Islamic terrorism."…

The event may have solidified Cruz' strong hold over the evangelical electorate in Iowa.

He brought down the house at the close of the evening with an impassioned plea for conservative unity that may, come the Iowa caucuses in February, turn out to be prophetic.

"If conservatives come together and stand as one, it's game over," he said. "This primary is over if conservatives unite. And if conservatives stand together and unite, the general election is over."
Not that you want to count You-Know-Who out, not yet…
It's too bad so few people showed up to @bobvanderplaats Family Leader dinner. Next year I'll try & be there- and they'll have a huge crowd!

— Donald J. Trump (@realDonaldTrump) November 21, 2015
Square this tweet with this story. https://t.co/BXSqOfkIb5 pic.twitter.com/hTmDc3Bupo

— Teddy Schleifer (@teddyschleifer) November 21, 2015