Located in a town famous for its hills, University of Pittsburgh's main campus climbs an especially steep one like a vine. You can see intelligent design (small 'i', small 'd') in the way classes, dorms and the medical school all sit within a short walk of Fifth Avenue at the bottom while a more strenuous hike is rewarded with the athletic facilities and an excellent view. Behind campus Center Ave. runs up the spine of the hill and over its peak, into a neighborhood understandably known as the Hill District.
Around dusk Center is busy with Pitt employees looking to avoid Oakland traffic, and crows. For reasons that probably involve old, tall trees that line the street, and the excellent view, crows seem to like that part of Center. Once in a while one can see what seems like half the crows in Pittsburgh wheeling around over the hill and holding corvid debates in a babbling din. You can drive on for miles and see murder after murder headed for Center in the fading light.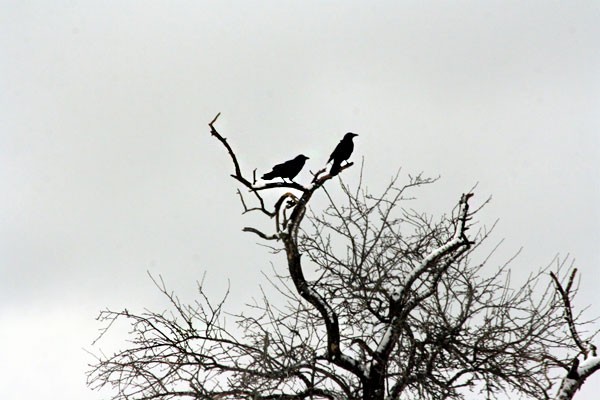 Of course you need look up, so like most commuters I usually missed it. In fact I only noticed it one early spring night when I opened my car window and looked around to see what the racket was about. I have not even taken that commute for a long time now so I have entirely lost touch with how often or what time of year it happens. This weekend I brought Dr. Mrs. Dr. F., Jr. for a walk on the hill at dusk but we only saw clear sky and a great view of Pittsburgh's east end. The girl loves pointing out birds so I thought a living sea of crows could short out her toddler brain in a delightful and hopefully non-permanent way.
Maybe you all can help. Does anyone know motivates crows to gather in mega-murders like that? Mating season? I would love to hear actual expertise, educated guessing, suitably persuasive BS, whatever you got. Maybe some of you drive that commute and can pass on when you see it happen.
Use this space to share any unexpected wildlife encounters you have had.