I recently bought a new birdfeeder that hangs on the window near my home office workspace via suction cups. So far, the birds have boycotted it, but I have a new squirrel-friend: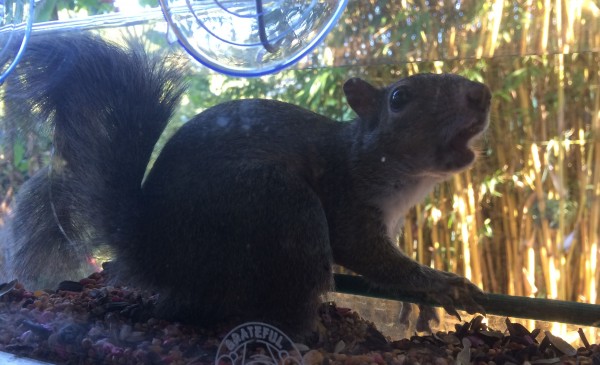 Shut up. She can't help it. That's how you'd look too if you were just noshing on your sunflower seeds and looked up to find T-Rex staring back at you. With a camera.
I'm not one of those people who begrudge squirrels seed from my birdfeeders. If anything, the squirrels are more entertaining than the birds — complicated acrobatics are required for the squirrel to get into that feeder.
The feeder is attached to the upper pane of the window, so the dogs frequently pass by without noticing the squirrel. But when they do, they carry on as if a horde of zombie mail carriers were attempting to crash through the wall.
I still haven't worked out how I'm going to prevent those outbursts when I have a conference call scheduled. I may have to break down and get shades or curtains for that bare window just to hide the squirrels from the dogs.
*****
We are hosting 11 at our place tomorrow. Here's the stuff I'm making:
– Turkey
– Gravy
– Dressing (or stuffing, as some call it)
– Mashed potatoes
– Cranberry relish
– Fried cabbage
– Corn soufflé
– Candied sweet potatoes
In addition to that, I've farmed out several side dishes to guests, including the obligatory green bean casserole and mac 'n cheese. I'm also making a fall sangria (i.e., tossing apple slices and cranberries into my regular sangria) and serving several appetizers.
Friday morning, we'll make a picnic basket of our leftovers and set out for the northern counties, where we'll camp out, canoe and visit my old grandma and other relatives.
*****
The Thanksgiving before last, my husband, kid and I traveled up to have Thanksgiving with my mom and grandma at Mom's little house in the woods. I was in charge of the turkey and dressing. About two hours before we were scheduled to eat, my brother called me and said he and his two kids were on their way — to surprise Mom.
They were supposed to be having Thanksgiving with his wife's family, but my brother changed his mind on Thanksgiving Day. I've gotta admit, I was annoyed as hell, though I hid it well on the phone.
I'm not this woman, but when I undertake a herculean task like cooking Thanksgiving dinner, it's important to me to do it right. Since we were cooking for just a handful of people, three completely unexpected guests threw a monkey-wrench into my plans, and I wasn't even supposed to tell Mom, my fellow cook, about the last-minute 50% increase in mouths to feed.
I didn't tell her, either. But I found my husband outside by the campfire and ranted to him about the imminent arrival of my inconsiderate shithead brother and his two picky eaters. Who does that, ferchrissake? (I asked, rhetorically.) A person who has never cooked an elaborate meal for other people, that's who.
After I got all that off my chest and had a glass of chardonnay, my husband pointed out that my brother's arrival would make Mom and Grandma happy, and that we really would be able to feed everyone one way or another. He didn't say "quit being so inflexible and enjoy your family like you're supposed to over the holidays" in so many words, but he conveyed that message in the nicest possible way, and I heard it.
And you know what? Everything turned out fine. Everyone got enough to eat. Mom was surprised and thrilled to have ALL of her grandchildren under one roof along with two of her three kids.
We didn't know it at the time, but that was the last Thanksgiving we'd ever have with Mom. The ultimately fatal heart problem that would take her from us at age 68 would manifest two months later, and a month after that, she would be gone.
So I'm damn glad my brother did unexpectedly show up with his kids that Thanksgiving, even if it was inconsiderate to the cooks. And I'm going to try to keep that in mind as little annoyances arise over this holiday season, as they inevitably will.
None of that shit is important. The people you love are, even when they show up unexpectedly or express absurd opinions or turn the gravy boat over onto your white linen tablecloth.
Anyway, sorry to get all heavy on you in the middle of an open thread that started off innocuously enough about squirrels. Please feel free to relate your plans, detail your cooking strategy or discuss other topics!