We had a lively discussion here last week about the Democrats' inability to mobilize the very people who benefit most from policies Democrats support. It centered around a NYT article on states like Kentucky that benefit from policies like Obamacare but then turn around and vote in politicians who promise to slash the safety net.
The takeaway from that article, IMO, is that it's not that the people who are using Obamacare hate it and want to see it stamped out (which is counter-intuitive no matter what very real sociological ills are attributed to the population) but rather that the people who are using it don't vote.
Ezra Klein at Vox has a piece up today that looks at the findings of another NYT article about the possible Obamacare rollback in Kentucky that reaches a similar conclusion:
Carolyn Bouchard, a diabetic with a slowly healing shoulder fracture, hurried to see her doctor after Matt Bevin was elected governor here this month.

Ms. Bouchard, 60, said she was sick of politics and had not bothered voting. But she knew enough about Mr. Bevin, a conservative Republican who rails against the Affordable Care Act, to be nervous about the Medicaid coverage she gained under the law last year.

"I thought, 'Before my insurance changes, I'd better go in,' " she said as she waited at Family Health Centers, a community clinic here.

There is something perfect about this anecdote: Bouchard clearly benefits from Obamacare, or at least believes she does, but less than a decade after the federal government passed the program into law, she's decided she's sick of politics and didn't bother to vote. The result is that she may well lose her insurance — which will, presumably, leave her yet more disgusted by American politics, and make her that much less likely to vote.
Klein published a couple of charts that illustrate this vexing conundrum, including this one: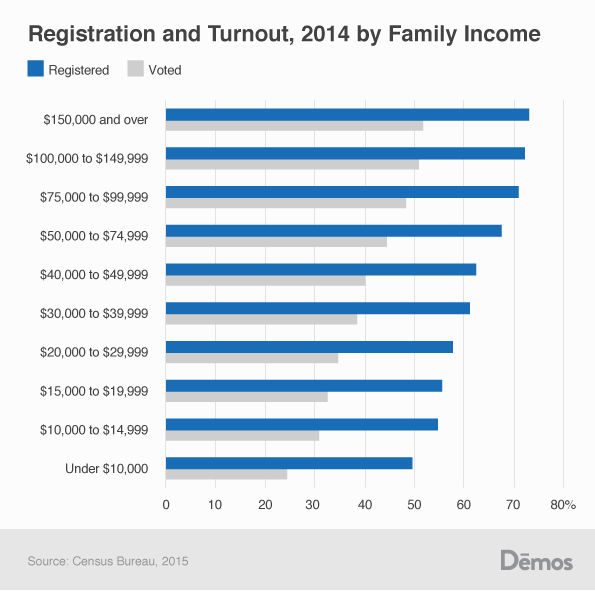 Klein says, "The greatest trick the devil ever pulled was making the natural response to disappointment with American politics apathy rather than participation."
I think he's right, but I don't know how we solve it. In the Balloon Juice post linked in the first line, we talked about highlighting great things our local reps have done, and that's a good idea. It might make us feel less hopeless. But it won't reach the disengaged. Anyone got any ideas on that score?
ETA: In the above-referenced thread, valued commenter Heliopause said the following:
An example of where to start — this is an example, not a comprehensive program — would be a series of TV ads, run nationally to the largest possible audience, which basically say, "we are the Democrats and we stand for X, Y, and Z." Make sure the ad is affirmative without being treacly, and keep the faces of Hillary or whomever out of it, this is about the party and not a personality. Keep hammering this message and stick with it, it's going to take years before it starts doing any good.

That's the only chance, and I'd love to be wrong, but I don't think it can happen. Balloon Juicers are somewhat obsessed with personality politics; the MSM is completely obsessed with it. If you're not into the Khardashians you don't watch them. Same with our politics.
That rings true to me.