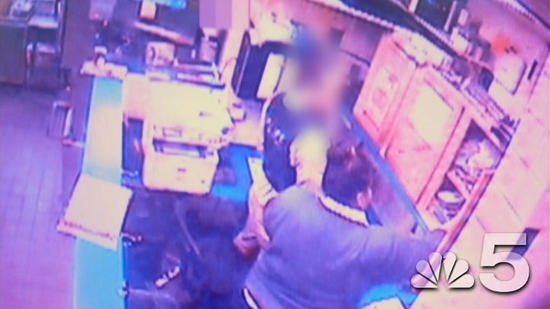 From the bottom up:
On the night of the Laquan McDonald shooting, Chicago police entered the nearby Burger King restaurant on Pulaski Road to see what its security cameras captured, a store official told NBC 5 News six months ago.

When they left, the store official said, the security video was missing.

Now NBC 5 News has obtained screen grabs of what appears to be at least one police officer in the Burger King at what appears to be a computer terminal that night.

What happened to the video is disputed. Cook County State's Attorney Anita Alvarez said testing showed the computer files had not been tampered with.

NBC 5 has obtained screen grabs of what appears to be at least one police officer in a nearby Burger King at what appears to be a computer terminal the night Laquan McDonald died.

Police Supt. Garry McCarthy said there appeared to have been technical difficulties.

But as we first reported last May, a Burger King district manager said police deleted the security footage after spending more than three hours in the restaurant.
The NY Times has an op-ed piece detailing how it all went down:
THERE'S been a cover-up in Chicago. The city's leaders have now brought charges against a police officer, Jason Van Dyke, for the first-degree murder of 17-year-old Laquan McDonald. But for more than a year, Chicago officials delayed the criminal process, and might well have postponed prosecution indefinitely, had it not been for a state court forcing their hand.
From Our Advertisers

They prevented the public from viewing crucial incriminating evidence — first one police car's dashboard camera video; now, we learn, five such videos in total. And these senior officials turned a blind eye to the fact that 86 minutes of other video surveillance footage of the crime scene was unaccountably missing.

The Cook County prosecutor, Anita Alvarez, must have had probable cause to indict Officer Van Dyke for the Oct. 20, 2014, shooting death of Mr. McDonald the moment she viewed the police dash-cam video, after her office received it two weeks later. That video, in her own words, was "everything that it has been described to be by the news accounts. It is graphic. It is violent. It is chilling."

Ms. Alvarez, and other city leaders, surely knew they would have to indict Mr. Van Dyke for murder as soon as the public saw that footage. "I have absolutely no doubt," Ms. Alvarez finally said last week, "that this video will tear at the hearts of all Chicagoans."

But the timing, in late 2014, was not good.

Then up for re-election, the mayor of Chicago, Rahm Emanuel, was looking ahead to a contested election on Feb. 24, 2015, which would ultimately result in a runoff election on April 7. In Ferguson, Mo., a grand jury was hearing testimony on the police shooting of Michael Brown. The video of Eric Garner being choked to death during an arrest in New York had gone viral. The Black Lives Matter movement was gaining momentum across the country.

The video of a police shooting like this in Chicago could have buried Mr. Emanuel's chances for re-election. And it would likely have ended the career of the police superintendent, Garry F. McCarthy.

And so the wheels of justice virtually ground to a halt. Mayor Emanuel refused to make the dash-cam video public, going to court to prevent its release. The city argued that releasing the video would taint the investigation of the case, but even the attorney general of Illinois urged the city to make it available.

Then the city waited until April 15 — one week after Mr. Emanuel was re-elected — to get final approval of a pre-emptive $5 million settlement with Mr. McDonald's family, a settlement that had been substantially agreed upon weeks earlier. Still, the city's lawyers made sure to include a clause that kept the dash-cam video confidential.

Around the time the freelance journalist Brandon Smith filed suit for release of the dash-cam video, on Aug. 5, 2015, the Chicago Police Department told him that it had already received, and rejected, 14 other Freedom of Information Act requests for the evidence. The city spent thousands of dollars in legal expenses to keep the video under wraps. And it would probably have continued to do so, had Judge Franklin Valderrama of the Cook County Circuit Court not ordered its release.

Meanwhile, the state's prosecutor, Ms. Alvarez, concluded that there had been no evidence of tampering when police officers allegedly erased 86 minutes of video footage from Burger King surveillance cameras close to the location of Mr. McDonald's shooting by Officer Van Dyke. The missing footage was from 9:13 to 10:39 p.m. — bracketing the time when Mr. McDonald was shot (around 9:50 p.m.).

City leaders did everything in their power to keep the homicide from the public as long as possible. Indeed, Mr. Van Dyke was indicted only after the forced release of the videos.
Heads are starting to roll as Rahm tries to save himself:
Mayor Rahm Emanuel ousted Chicago's police superintendent on Tuesday, after the city's police department came under fire over an officer shooting a teenager 16 times, and for resisting, for more than a year, to release of a video of the fatal shooting.

"He has become an issue, rather than dealing with the issue, and a distraction," Mr. Emanuel said of the police chief, Garry F. McCarthy.

The mayor hired Mr. McCarthy, 56, in 2011 to take over law enforcement in a city plagued by persistent violent crime, and homicides declined during his tenure. But Chicago still has a serious problem with gang violence, in particular, including the Nov. 2 killing of Tyshawn Lee, 9, who police say was targeted by gang members.

But the biggest blow to the department came with the release last week of dashboard camera video of the Oct. 14, 2014, shooting of Laquan McDonald, 17, by Officer Jason Van Dyke, which had led to protests against police use of force and calls for Mr. McCarthy to be dismissed.
Alvarez and Rahm need to go as well as anyone involved in this, even if they have to fire 50 cops.