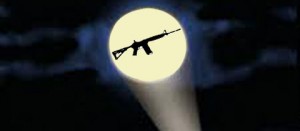 Steven Hayward at the wingnut PowerLine blog indulges in a silly hypothetical:
GUNS: TIME TO CALL THE LIBERAL BLUFF?

Here's an idea: let's call the left's bluff on the Second Amendment. The left is wedded to the notion that there is no individual right to own guns because of the clause the 2nd Amendment that mentions "a well-regulated militia."

[snip]

The "militia" at the time of the Constitution was generally regarded as every able-bodied adult male. Since we cannot have police or even private security at every location where a terrorist or mentally ill person might turn up, how about we start a program encouraging Americans to sign up in large numbers to be state militia members, involving a short course in gun safety and threat assessment. Then instead of having signs at schools and malls and elsewhere declaring a "Gun Free Zone," we'd have signs saying "This facility protected by state militia members."
Call my bluff? I wish a motherfucker would, Steven!
But here's the thing: It's a "well-regulated" militia, so forget that namby-pamby bullshit about "encouraging Americans to sign up." Nope, we're going to follow an originalist interpretation of the US Constitution.
As you mentioned, when the Constitution was written, militias comprised "every able-bodied adult male." So every able-bodied adult male who owns a gun is required to sign up for our modern state militia.
And forget that "short course in gun safety and threat assessment" crap, Steven. That's a recipe for disaster, considering the firearms accident rate among our armed patriots, many of whom apparently can't clean a gun without shooting their own dick off. (Google it! Happens all the time!)
Nope, if you want to post armed gomers at the Starbucks where my kid hangs out, they will damn well be highly trained in gun safety and threat assessment, and they'll undergo a rather comprehensive psychological assessment too. They will be as well-regulated on that score as an FBI agent.
An initial six-week course followed by an annual two-week refresher ought to be sufficient. Anyway, that's MY well-regulated militia. Ready to sign up, ammosexuals? Didn't think so.