Many  health policy wonks going to sleep at night dreaming about curves.  Long sinuous curves, short sharp ones leading to discontinuous jumps and drops, local minima and maxima.  Curves are what they dream as changing the healthcare cost curve is one of the Holy Grails of American federal policy making as the cost of healthcare dominates the fiscal possibility space of the next two generations .
The Urban Institute had a briefing paper  on continuous coverage.  It is increasing.  From the September 2014 to September 2015, 5% more Americans had coverage for the entire year (80.9% vs. 75.6%).  The gain is evenly split from people who previously were uncovered and people who had sporadic coverage.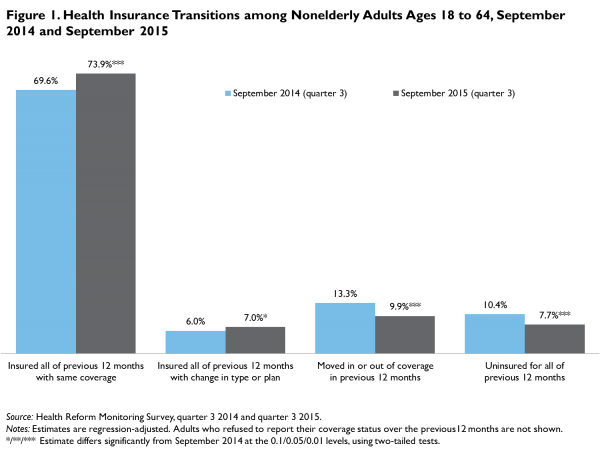 Why does this matter from a cost curve perspective?
As I argued in 2014, getting dropped from coverage hurts from a purely cost control perspective.
The study looked at the cost of caring for Floridians on Medicaid who had diabetes. Everyone had a gap in Medicaid coverage.  Here are the headline results:
Overall total program expenditures were higher for post-lapse periods compared with pre-lapse periods. Total expenditures were estimated to increase by $239 per member per month for the 3-month period. The likelihood of having any expenditure was actually lower in the post-lapse period. However inpatient and emergency room use was higher.
Diabetes  can be managed with regular low level care.  Or diabetes can spiral into crisis.  Crisis care is expensive care.  A gap in coverage means low level care is not easily available.  People can requalify for Medicaid after either their health worsens or their income drops.  An income drop can often happen because their health makes working impossible.  People were dropping from coverage, experiencing a crisis, regained coverage and ran up large, avoidable bills as they restabalized themselves at the pre-crisis level.  This is inefficient from a sytsemic perspective, and needlessly painful to the individual.
A similar study looked at Florida residents with depression who had intermittent Medicaid coverage. The results were the same.
The number of inpatient episodes increased by .054 episode (p<.001), the length of inpatient stay increased by .32 day (p<.001), the number of emergency department visits increased by .57 visit (p<.001), and total Medicaid expenditures increased by 430 dollars (p<.001) in the three-month period after an interruption in coverage of more than one month. Individuals with depression who qualified for Medicaid because of a disability had a greater likelihood of experiencing higher expenditures after an interruption than individuals who were not disabled.
Less healthy individuals were more likely to have crisis care needs if they lost regular care.
This should not be surprising.
If continual coverage expands, especially if the population who have no insurance transitions in a year expands, we should expect to see cost curves bend lower because we should be systemically performing more routine care and less crisis care.  That means we should be spending less money on average while improving the quality of life of people with chronic conditions.