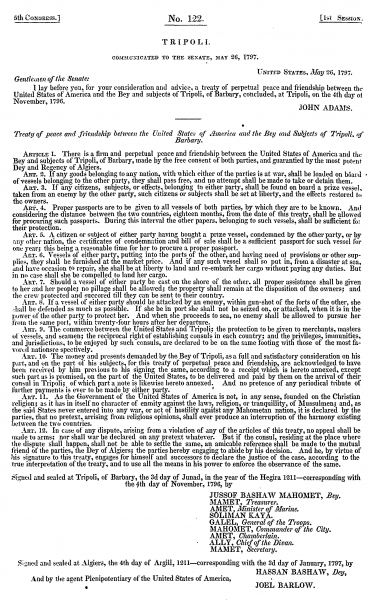 *
On June 7, 1797 President Adams received a unanimous ratification of the Treaty of Tripoli from the US Senate. This is significant for two reasons. The first is that this was the 5th United States Congress and had a significant number of founders and framers serving in it. So these were the men responsible for getting  the US going: revolution, first and second founding**.
The second has to do with Article XI of the Treaty of Tripoli, which states:
As the government of the United States of America is not in any sense founded on the Christian Religion,-as it has in itself no character of enmity against the laws, religion or tranquility of Musselmen,-and as the said States never have entered into any war or act of hostility against any Mehomitan nation, it is declared by the parties that no pretext arising from religious opinions shall ever produce an interruption of the harmony existing between the two countries.
That first clause is a real doozy! It puts paid to the revisionist and inaccurate lie that the US was founded to be an explicitly Christian nation. Had that actually been the case, this language would not have survived to ratification as many of the men involved in America's founding were voting on the treaty's ratification.
* Image of the Treaty of Tripoli was found here.
** By first and second founding I'm referring to the form of government of the US as founded under the Articles of Confederation (first founding) and then the very different form of government of the US as founded under the Constitution (second founding).