The Federal Trade Commission (FTC) was in the news earlier this week.  They, in conjunction with the Commonwealth of Pennsylvania, are filing suit to stop a hospital chain merger in the middle of that state.
The Federal Trade Commission has authorized an action to block Penn State Hershey Medical Center's (Hershey) proposed merger with PinnacleHealth System, alleging that the combination of the two health care providers would substantially reduce competition in the area surrounding Harrisburg, Pennsylvania, and lead to reduced quality and higher health care costs for the area's employers and residents….the merged entity would control approximately 64 percent of this market, likely leading to increased healthcare costs and reduced quality of care for more than 500,000 local residents and patients….Hershey is a 551 bed…Pinnacle is a not-for-profit three hospital system…combined total 610 beds….
1,161 beds is not a huge hospital system.  Two hospitals that I can see from the lunch room window have more beds that the four hospitals in question.  However the question is not about absolute size, but relative size and market power.
If we use beds in service as a reasonable proxy for market share in the market region, Central Pennsylvania is already a concentrated market. A merger would take a concentrated and minimally competitive market and make it far worse. HHI is a measure of market concentration, a larger number means less competitive (10,000 is pure monopoly).
I am making a worst case assumption that Rest of Market is a single provider, so the HHI Index value is a maximum number, if there are multiple independent hospitals, the HHI will decrease.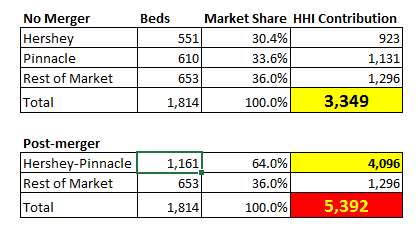 The FTC uses the HHI index as a fast guide to their analysis for future actions. Their guidelines are here. The most relevant part is on horizontal mergers paragraph C:
The Agency regards markets in this region to be highly concentrated. Mergers producing an increase in the HHI of less than 50 points, even in highly concentrated markets post-merger, are unlikely to have adverse competitive consequences and ordinarily require no further analysis. Mergers producing an increase in the HHI of more than 50 points in highly concentrated markets post-merger potentially raise significant competitive concerns, depending on the factors set forth in Sections 2-5 of the Guidelines. Where the post-merger HHI exceeds 1800, it will be presumed that mergers producing an increase in the HHI of more than 100 points are likely to create or enhance market power or facilitate its exercise. The presumption may be overcome by a showing that factors set forth in Sections 2-5 of the Guidelines make itunlikely that the merger will create or enhance market power or facilitate its exercise, in light of market concentration and market shares
The FTC's job is to minimize the accumulation of hookers and blow by market moving entities at the expense of the public.  Mergers in already non-competitive markets to make the market is even less competitive are attempts to extract social surplus from the public and transfer it to the merged entity's primary stakeholders in the form of hookers and blow.  Hospitals are already concentrated market movers.
 Cutler and Morton in 2014 found the following regarding hospital concentration:
More populous areas are less concentrated on average. Even still, concentration is pervasive. Nearly half (n = 150) of hospital markets in the United States are highly concentrated, another third (n = 98) are moderately concentrated, and the remaining one-sixth (n = 58) are unconcentrated. No hospital markets are considered highly competitive.[my emphasis]
The FTC can be a significant cost control lever.   An aggressive FTC that cracks down on almost all hospital mergers as a default response would increase competition.  There is some theoretical bipartisan support  to aggressive anti-trust merger review and potentially a coalition of wonks that would support actual trust and monopoly busting via the courts.  The question is whether or not the FTC in 2017 will have high level political support to engage in default opposition to most insurer and provider mergers in most market segments?
That is the political question.  I am not too optimistic about that answer as hospitals and  more importantly doctors are some of the most trusted individuals and entities in the American public discourse.  A doctor crying on camera that a merger disapproval will not let her treat her patients as well as she wants to is a powerful image that half a dozen policy nerds can't credibly counter-act.  The fate of the Cadillac tax shows the limits of wonk power to change policy when that policy change enrages significant elements of both political parties coalitions.  Yet, an aggressive FTC is one of the few "easy" or at least non-legislative routes to containing healthcare costs.