No real point to this thread — I was just desperate to post something that would push Ted Cruz's smug mug below the fold. It was doing me psychological harm to look at that awful smirk, which looks like the bastard love child-expression of Joe McCarthy's zealot's scowl and Eddie Haskell's simpering sycophant's pout.
Speaking of psychological damage, I ran across this picture of Jeb! on some random site and was moved to feel real pity for the bastard because I thought he'd completed the circle of indignity and pissed himself in front of a crowd: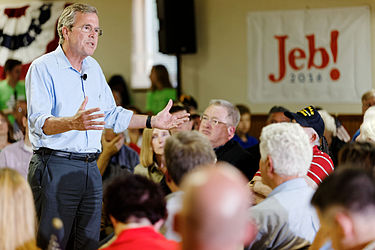 But no, it's just the shadow of someone's head, not a urine stain. Oh well. Metaphorical incontinence can't be far away for Jeb.
Open thread!