Case mix matters.  It matters a lot because different groups of people have very different sets of behaviors.  It matters because external actors that interact with different study groups have different incentives.  A new study reported in the New York Times makes that very clear:
The research looked not only at Medicare but also at a huge, new database drawn from private-insurance plans – the sorts used by most Americans for health care. And it shows that places that spend less on Medicare do not necessarily spend less on health care over all….

Larger, integrated hospital systems – like those in Grand Junction – can often spend less money in Medicare, by avoiding duplicative treatments. But those systems also tend to set higher prices in private markets, because they face relatively little local competition….

the paper found that spending in one system doesn't predict spending in another. Some of the areas with the most cost-effective Medicare providers also have lower-cost private health care – but just as many places with relatively low Medicare costs have high private insurance spending….Medicare, regional differences in spending are driven mostly by the amount of health care patients receive, not price per service.
Medicare has two components.  Fee for Service or traditional Medicare has a set fee schedule for most services for most providers.  Some providers will get bumps based on special attributes (teaching hospitals versus community hospitals) and location (rural hospitals get critical access money) but prices are banded within a region.  Medicare Advantage (Part C) will pay prices that are tied to traditional Medicare plus or minus a little bit.  So Medicare's cost equation is dominated by how many services are paid for at a low level.
Private, employer sponsored health insurance's price equation is dominated by the price of a service.
Commercial insurance does not have a universal fee schedule.  Most commercial contracts are based on Medicare plus something.  The question is how big is that something.  Some of the Exchange plans are based on Medicare plus 3% or Medicare plus 7% or Medicare plus 50%.  Standard, broad network commercial plans will pay Medicare plus a lot.  Pricing is far more variant within a region as provider pricing power can come into play.  This is where my simple little 2×2 model still has validity.  Dominant providers can get a lot of surplus from fragmented payers.
Utilization in private plans tends to be a lot lower than Medicare utilization for a very simple reason.  The case mix is different.  Employer sponsored coverage applies to a population that is younger and healthier than the Medicare covered population.  There are very few 45 year-olds getting their knees replaced and lots of 68 year-olds with spiffy new knees.  So the problem on the commercial side of the cost equation is not utilization as it is comparatively low and there are numerous means to decrease utilization but provider pricing.  The cost per service is very high.
The paper looks at this and produced three very important splash graphics that illustrate the spread.  I am really interesting in the right hand graph on the effects of market power on pricing.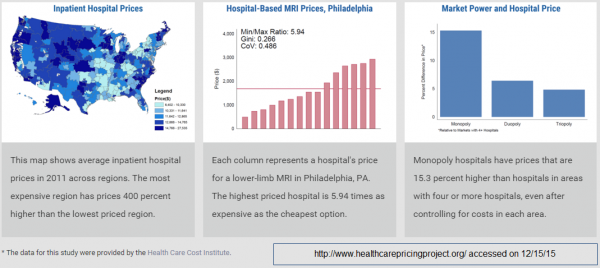 Areas where there is a single dominant provider pay 15% more than we would otherwise expect.  Very concentrated non-monopoly markets pay 5% to 8% more than we would expect.
How do we change this?  This goes back to my post last week on the FTC.
The FTC's jobis to minimize the accumulation of hookers and blowby market moving entities at the expense of the public.  Mergers in already non-competitive markets to make the market is even less competitive are attempts to extract social surplus from the public and transfer it to the merged entity's primary stakeholders in the form of hookers and blow….An aggressive FTC that cracks down on almost all hospital mergers as a default response would increase competition.  There is some theoretical bipartisan support  to aggressive anti-trust merger review and potentially a coalition of wonks that would support actual trust and monopoly busting via the courts.  The question is whether or not the FTC in 2017 will have high level political support to engage in default opposition to most insurer and provider mergers in most market segments?
An aggressive FTC can prevent the competitive market situation from getting worse.  A hyper aggressive FTC that starts winning suits to break up pre-existing combinations would lead to lower net pricing as providers would lose a little bit of their pricing power and consumers would get a bit more of the social surplus back.