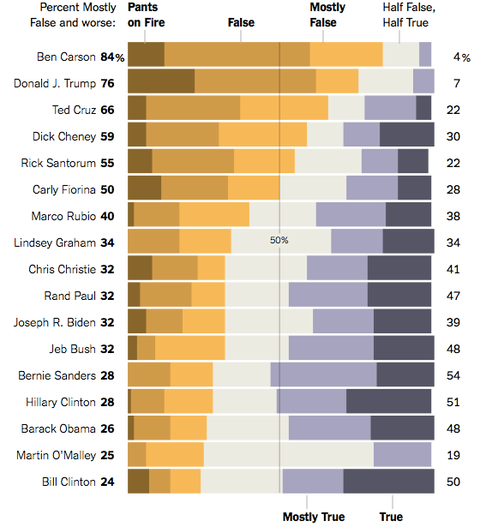 This chart is from a NYTimes piece by Angie Drobnic Holan, of Politicfact, published under the cheerful title "All Politicians Lie. Some Lie More Than Others." Which is… well, difficult to rebut. I would argue that the whole premise behind the chart is Pants on Fire, because it seems like Politifact makes no effort to distinguish between "Hello, voters, it's so great to be here with you in Pig Lick, Iowa, on a dreary February morning" and "The Kenyan Usurper plans to declare martial law during his next State of the Union speech". But — truthiness!:
… Even though we're in the midst of a presidential campaign full of falsehoods and misstatements, I see cause for optimism. Some politicians have responded to fact-checking journalism by vetting their prepared comments more carefully and giving their campaign ads extra scrutiny.

More important, I see accurate information becoming more available and easier for voters to find. By that measure, things are pretty good.

Mr. Trump's inaccurate statements, for example, have garnered masses of coverage. His claim that he saw "thousands of people" in New Jersey cheering the terrorist attacks on Sept. 11, 2001, grabbed headlines but the stories were about the rebuttals…

In fact, journalists regularly tell me their media organizations have started highlighting fact-checking in their reporting because so many people click on fact-checking stories after a debate or high-profile news event. Many readers now want fact-checking as part of traditional news stories as well; they will vocally complain to ombudsmen and readers' representatives when they see news stories repeating discredited factual claims.

That's not to say that fact-checking is a cure-all. Partisan audiences will savage fact-checks that contradict their views, and that's true of both the right and the left. But "truthiness" can't survive indefinitely in a fact-free vacuum…
**********
Apart from taking what solace we can in the conviction that the deck chairs on our political Titanic will be cunningly arranged and flawlessly well-kept, what's on the agenda for the day?