I've been stewing for a couple of weeks about what was said by Fat Tony and Chief Justice Roberts during oral arguments on Fisher v. University of Texas, the latest attack on affirmative action.
Scalia's hankering after the good old jurisprudence of Plessey v. Ferguson receive much notice, but I was (perhaps unsurprisingly, given my day job) at least as troubled by Roberts' musing on the importance of diversity to a physics classroom.
Much of Roberts' train of thought was no doubt shaped by prior jurisprudence on the criteria by which preferences could be accepted, but his specific choice of the physics classroom as a presumed space in which diversity would not show a particular benefit to the assembled students seemed to me to reflect a common and pernicious mistake, and error about both the practice of science and the ways diversity actually produces its effects.
So I wrote about it — and The Atlantic put it up on their site today.  Here's a taste:
Roberts's question about the "benefits" minorities might bring into a physics classroom suggests a classroom in which nothing outside physics may usefully impinge. That is, at best, a fatally narrow view. Roberts is thinking only about the answers, not the process of arriving at them. Actually doing science involves everything about the person doing the work—as, for example, the way Einstein turned his anger and pity for his father, a casualty of the rat race, into the goad that led him to so much of modern physics.
The piece turns on two stories: that told by Einstein in what he called "Notes for an Autobiography" and another, by the physicist Kaća Bradonjić, whose history I learned last week at a Story Collider performance.  She talked about childhood, war, exile and general relativity — and it was both wonderful, and the crystallizing narrative that captured, for me, the difference between thinking about physics (any inquiry) as a body of results, and physics (any inquiry) as it's being done, contingent in time, space, and the individual minds and lives of the people doing it.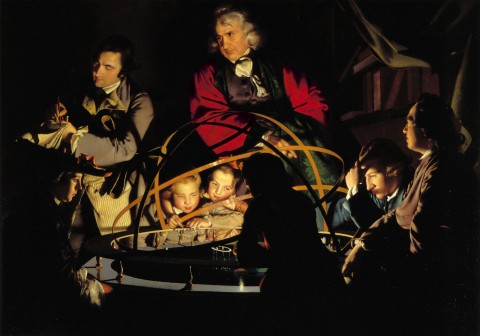 Anyway — y'all might enjoy, and if you're interested, now you know where to go.
Image: Joseph Wright of Derby, The Orrery, c. 1766