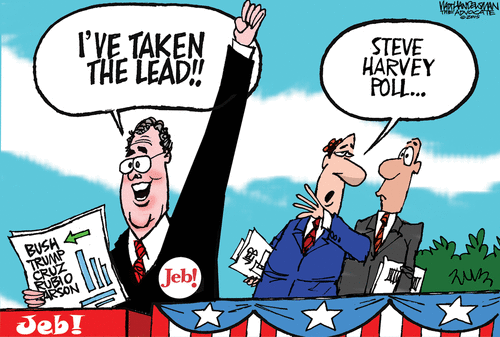 Jeb is looking more like an afterthought in FL, where Trump leads & Cruz & Rubio tie https://t.co/U4MrYV72aS pic.twitter.com/rQjpG2OfOj

— Marc Caputo (@MarcACaputo) December 22, 2015
While the mature thing would be to deplore the gross distortion of our national polity by the vast funds of special interests, I'll admit it gives me pleasure to read that JEB! has been flushing his backers' funds down such a gaping rathole. Per Mark Murray at NBC:
As the year comes to a close, ad spending so far in the 2016 election has topped $111 million, and a third of that amount has come from Jeb Bush and his allies, according to ad-tracking data from SMG Delta.

By comparison, $35 million had been spent on TV and radio ads at this same point in time in the 2012 presidential race – with Mitt Romney and his allies (at $8.5 million) and pro-Obama forces (at $7.4 million) being the biggest spenders by the end of 2011.

But in this current election cycle, Jeb Bush's Super PAC, Right to Rise, is the No. 1 spender, having aired $37 million in TV ads, while the campaign has chipped in an additional $1 million.

Put it another way: Bush and his allies have spent more in ad money so far in the 2016 presidential race ($38 million) than all of the ad money at this point in the 2012 cycle ($35 million)…
And he still can't climb back into the double digits!
Old scars force me to admit that, yes, it is not actually impossible that the "establishment GOP" will find some way to force Third Time's No Charm to the top of the 2016 ticket. And gods know the most likely Repub replacements (Rubio, Cruz, DTrumpf) are individually and collectively unfit to run a small-town general store, much less a nation of 300 million. But I'm still enjoying the thought of how unpleasant Christmas dinner at the Kennebunk estate is liable to be this year.
***********
Speaking of seasonal festivities, what's on the agenda for this hump-iest of Hump Days?