Directly behind my chair at my computer desk (which is actually not a desk but a big industrial strength table), Miss Lily lies on the couch, where she always is unless she is lying down by my feet.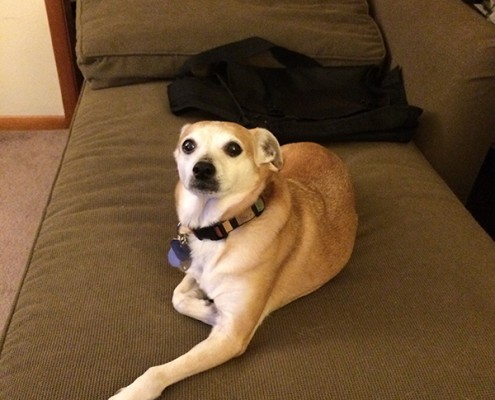 There is rarely a moment in the day when Lily is not within 5-10 feet of me. Sometimes she goes outside to sun herself or potty, but I'd say a solid 99% of the time I am home, Lily is within arms reach. The other dogs do as they want, come and go as they please, but Lily is always around.
It's gotten to the point that I don't even notice her because she is basically a part of me. I don't even notice when she gets on my lap most of the time, but suddenly realize I have been petting her for 20 minutes or so. Unlike the other dogs, she's effortless. You have to tell Thurston to get down when he is on your lap and you want to stand up. Lily just senses when I am getting up and hops down and follows me.
She doesn't follow too close, either. I never stop short and step on her. She's by me, always watching. We make a mean team.
I was thinking about this when I was going to bed last night. All I have to say is "Alright, let's go to bed," and Lily hops down, goes outside and potties, and then gets in bed while I brush my fangs. I lie down, lift the blanket so she can get under the covers with her butt up near my armpit, and I scratch her ears and rub her head as we fall asleep.
Some dog.