It's ridiculously warm here in central coastal FL, but not too hot to BBQ, so we've got the smoker fired up and are awaiting the football games. I'm trying out a BBQ beans recipe based loosely on this from Serious Eats — looks like a good option if you forgot to soak dried beans overnight.
Is it just me, or are the early NCAA bowl matchups uniquely non-compelling this year? I looked at the schedule and couldn't find anything worth getting excited about until next Wednesday, and even then, it's mostly "meh" until the playoffs.
Some of today's NFL contests look kinda interesting. Here are my picks for the week: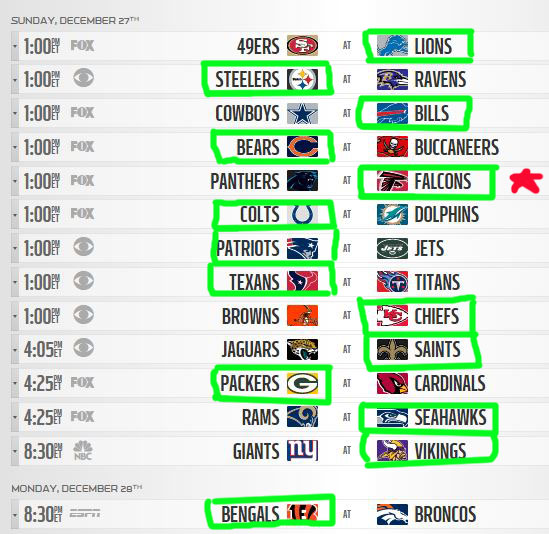 My upset pick — Atlanta over Carolina — is probably 95% wishful thinking, but the Falcons have shown occasional flashes of competence; it just depends on which team shows up. I would be delighted if the Jets strafe the Pats, the Dolphins down the Colts and the Bucs bag the Bears, but that's unlikely.
What are you up to today?
PS: Jim Webb strikes me as a slightly more egotistical Zell Miller. If he runs as an independent, will the sub-one percent of the electorate he peels off come from the GOP or Democrats?