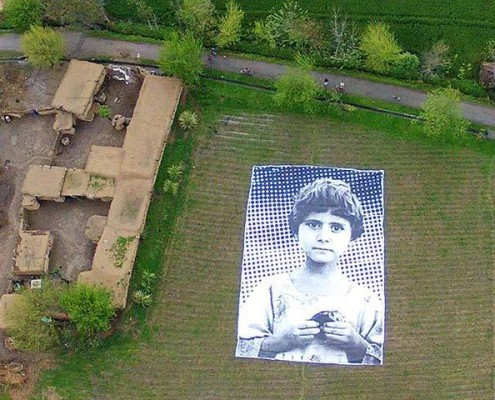 Every time we drop a bomb or launch a drone strike to achieve our big win in the war on terror du jour, we create more terrorists and lose our way as a nation just a bit more:
A group of Pakistani artists are hoping to generate "empathy" among US drone operators by placing giant posters of children meant to be seen from the air in the country's troubled tribal regions.

The project, titled #NotABugSplat, has released a photograph, itself taken from the air with the use of a mini-helicopter drone, of a poster laid out in a field that shows the face of a girl who lost both her parents in one of the controversial strikes in the northwestern Khyber-Pakhtunkhwa province.

"Bug splat" is said to be a term used by drone pilots based in the US to refer to how victims look when seen through video cameras.

"We tried to replicate as much as we could what a camera from above will see looking down," said one of the artists of the collective, who did not wish to be named individually.

"You will see how tiny people are and they look like little bugs, we wanted to highlight the distance between what a human being looks like when they are just a little dot versus a big face.

"One hope is that it will create some empathy and introspection."
And these kids weren't even in a park with a toy gun, which would make them an actual legitimate target for use of force.