While we've all been hashing out Texas's new open carry law, the good folks of Burns, Oregon have been living the dream. Oregon is an open carry state and the Burnsites (Burnsers?) are experiencing an influx of out of state militia folks. They are there to defend the Constitution and two local cattle ranchers who are set to turn themselves in on Monday after the 9th Circuit resentenced them to longer prison terms for setting fires on the Federal land where their grazing leases were. The out of state/area militia folks are being led by Ammon Bundy; Montanan Ryan Payne – the Army veteran who claims to have been Bundy's militia advisor and in charge of setting up the snipers at the Bundy standoff; and Arizonan John Ritzheimer –  the Marine veteran who has kept his honor clean by acting like a loon around Muslim Americans.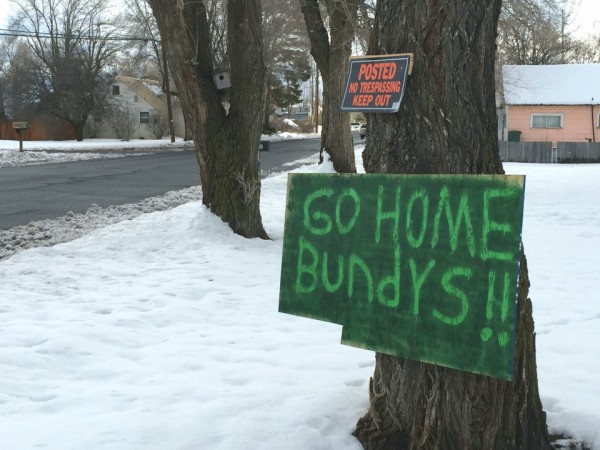 *
The Hammonds, who are set to turn themselves in on Monday, as well as most others in Burns do not seem to want the outsiders around. A rally and march earlier today seems to have gone off without incident, so hopefully Burns can make it through the weekend without a problem and the Hammonds can peacefully turn themselves in on Monday. The rally was organized by right wing radio host Pete Santilli, who was on site today in Burns. We'll update if anything of note happens…
In other militia news: Stuart Rhodes, the Oathkeepers founder, was disbarred in Montana (h/t: Eric the Fruit Bat). This was, apparently, for some sort of malfeasance in Federal court. The lawyers in our commentariat can explain if this means he's done as a lawyer everywhere, as it arose from a Federal complaint, or just in Montana.
——— UPDATE ———
There's been some question in the comments of what, exactly, the Hammonds were charged and convicted of and both why and how they were resentenced. Since we're a full service blog here (though we won't pick you up at the airport – this is what relatives are for), here are the links to the legal/juridicial issues. The first link takes you to the right up for the original trial and sentencing. The elder Hammond was convicted for setting the 2001 Hardie-Hammond fire. The younger Hammond was sentenced for both the 2001 fire and for a 2006 fire: the Kumbo Butte fire. They were acquitted on charges that they set two other fires in 2006.
http://burnstimesherald.info/2012/06/27/hammonds-convicted-in-federal-court/
This second link provides the explanation on their being resentenced. The appeal was made because the sentences were considered by the prosecution to be far too lenient. The prosecution also drew a conceptual connection to eco-terrorism, which is where the terrorism related allegations/concept seems to have come from.
http://www.capitalpress.com/Oregon/20151007/judge-sends-oregon-ranchers-back-to-prison
———UPDATE 2————
Thanks to Paul W and Kelly in the comments, we now know that Ammon Bundy, his brother Ryan, another unnamed Bundy brother, Ryan Payne, and a number of other militia folks have now occupied the Malheur National Wildlife Refuge headquarters buildings. No word on Ritzheimer's whereabouts. The Bundy's have stated that they are prepared to stay there for years and that they are prepared to use violence if any attempt is made to remove them. So we now have breaking and entering into a Federal facility, criminal trespass, and terroristic threats.