I have all kinds of thoughts about the new Star Wars movie but whatever trick Betty used to create the last secret thread apparently does not work any more. If anyone knows how to do that please feel free to share in the comments. Then again, you have all had weeks to see the movie. Maybe I can just put it in the extended content section below a 'more' button and those of you still desperately avoiding spoilers will just not click through. Discuss below.
Here's a recent pic of Max looking pensively over the water. I still love what I get from my GH2 but I find it increasingly hard to resist pulling the trigger on one of the newer Olympus models. That 5-axis in-body stabilization is really sexy. On the other hand I cannot begin to describe how much I love that every feature I routinely use has a dedicated switch, dial or button on the GH2. I hear that you can put bracketing, focus mode, AF/MF, timer etc. on the dials of an OM-D but the menus are crazymaking and you have to remember what everything does. Plus the GH2 makes really nice movies.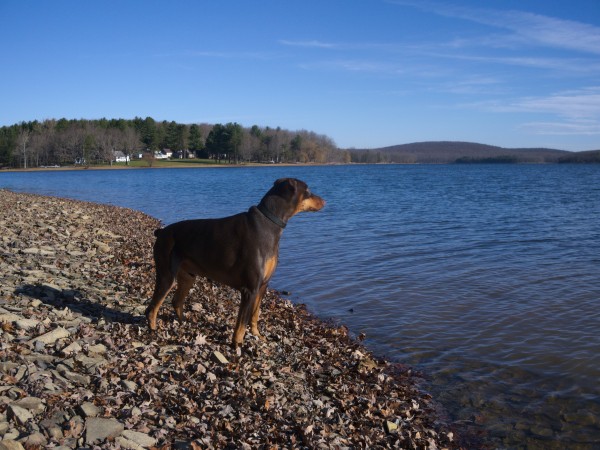 Chat about whatever.
***Update***
Alright, Betty talked me into it. I just bigfooted all over an open thread that John put up three minutes before this one (Anne will have her vengeance, in this life or the next) so let's spoil the hell out of the movie here. I put my longish, nerdy thoughts in the extended text.
***Update 2***
I forgot to add my non-nerdy/spoilery thoughts above the fold. Here you go.
Thought 1: The Force Awakens was a damn fun movie. Taken separately from where it fits in the greater Star Wars universe, is it worth your eleven bucks? Even if science fiction is not automatically your thing I would say yes. I cried a little, but I'm a parent and Abrams is a manipulative bastard. I guess that counts as spoiler-ish although Star Wars has always had parenting issues as a theme.
Thought 2: If you define 'good Star Wars' as the first trilogy, later Clone Wars and the Thrawn books and bad Star Wars as the rest, this was good Star Wars. I agree with AV Club that JJ Abrams could have gone a bit lighter on the fan service, but he clearly made a new movie with new storylines characters that don't fit in the original mold. Plus I think the call-backs are part of an interesting meta-narrative that I will get into in the spoiler zone.
Thought 3: spoilers below.
IF YOU HAVE AN RSS READER STOP READING HERE. SPOILERS AHEAD.
This movie was meta as fuck. So the bad guy has this overriding pathology; he wants to be awesome, and he is pretty sweet with the force, but at the same time his 'grandfather' a solid contender for GREATEST OF ALL TIME. I mean, the guy died thirty two years ago (both in in the movie and in our world time, HINT) and people still dress up as him for Halloween. That's a tough shadow to get out from. Meanwhile 'dad' is a guy who did some cool things but does does not hold up as well in retrospect. Yes, I am analogizing Han Solo to the prequels, bear with me. Daisey Ridley no more a Mary Sue than I'm the Queen of England but Kylo Ren is unambiguously a stand-in for J.J. Abrams himself and the burden of expectations, which by the way is a topic that J.J. Abrams should know REALLY WELL by now. I wonder whether this helps explain why the movie called back to the first trilogy so heavily it risked spinal damage. Slavish devotion to grampa's example can give you lots of power fast but it leads to bad places (GET IT?).
Based on that, here is my bet for Kylo Ren's story arc: Ben/Kylo understands that his hangup about legacy and expectations is a stupid self-imposed burden (GET IT), and anyway grampa went light at the end. So he shrugs off Vader's example and moves on to be his own person (AND MOVIE SERIES). Getting his ass kicked by a girl could be the trauma that clarifies it for him.
Next, the film has a Poe problem. Specifically, why is Poe Dameron a lead character? Yes he has some Han Solo charisma, but he has zero Solo problems. Finn has those (1. pissed off acquaintances hunting him down, 2. should he stay or should he go). Story characters need an outer or preferably inner conflict that prevents them from being who or where they want to be. As far as I can tell Dameron has a total of zero conflicts. I literally cannot think of anything he would want more than the job he already has from the beginning to the end of this movie. Despite its effects budget the climactic scene had vastly less drama than the same scene in ep IV because literally everyone from the Resistance base to stromtroopers unclogging toilets knew ahead of time that Poe Dameron was the guy who should be doing that trench run and he could probably pull it off. Poe Dameron may be the most fully actualized 'main' movie character since Robin Williams died. Star Wars traditionally has characters and then it has props (Joss Whedon is wildly successful in part for making every actor with a line of dialogue an actual character), and Poe is a prop.
Compare Dameron with the leads of IV-VI. Luke has so many great layers of conflict, mostly internal. Han has external problems and the compelling question of whether he can commit himself to something more profound than making a buck (the new movie retcons his progress a bit, but I'll spot Abrams that one since Han sort of repeats the whole arc in fast forward). Lando Calrissian might be the most interesting character per screen minute in movie history. The first moment you see him Lando has this deep conflict about Solo that could go either way, a tension that the director masterfully lets hang for five or six beats, and in that scene Lando already has an even deeper conflict that you don't even know about yet. Every time Lando shows up on the screen he makes a decision that completely changes what you understand about him and still makes sense within the story. In a word he's great and Kasdan should win another Oscar just for creating him.
Leia…well, Leia goes from a badass and evolves into a badass who is a bit more willing to take charge and get dirty. Actually she starts out that way. Okay aside from that you have, well, she has to choose between two boyfriends. Fuck Lucas.
Rey is cool. Abrams clearly set her up as the Luke here – obvious even from the trailer, but she is generally the director's favorite with layers of issues that the first movie only half starts to peel back. The story will revolve around a dance between her and Kylo/Ben, which will twist in directions that you don't expect. Like, say, the scene where Kylo makes you think the story is going one way only to dramatically twist it in exactly the opposite direction (GET IT?).
I will eat a shoe if Rey is not Luke's kid. Disney has said that Star Wars episodes will always center on Skywalkers yet Leia did not pick up on obvious hints like abandoned as a tween (?) on Jakku by off-planet parents. Even if you set aside her suspicious Force sensitivity, asking someone to leave your kid on a wasteland and not tell you which one is a dick parenting move even by Star Wars standards. I imagine it going one of two ways. Most likely she is Luke's kid (by Mara Jade would be cool). Alternatively, maybe Anakin had a sibling. Shmi spent a lot of time off screen, and someone who can reproduce by parthenogenesis could pop off an offspring pretty much any time. Maybe she meant to tell Anakin about that after he murdered the tatooine native camp but she had more important things to cover first. Among arguments in favor of that theory is the non-trivial consideration that it would drive Lucas fucking insane.
Rey does have a meta-problem that I think bears heavily on the rest of the series. Let's call it character duplication. Aside from her parent and abandonment issues Rey has (1) a surprising talent for piloting and seems to be a fast study, like Poe, (2) Jedi/Sith potential, like Finn (really, you only put someone in a lightsaber fight if that pays off later), and (3) decent fighting skills, like basically everyone except Gollum's orange cousin. So in the lead trio of characters you have two pilots with the same talents and two proto-Jedi. (plus a supposed villain with shaky job security and heavily foreshadowed light side tendencies…) That would add up to a lot of stepping on each other's toes, but only if they don't come into conflict. We already know Finn will never go dark (he says it, what, eight or nine times) and Poe is a one-note good guy. That leaves the girl. Did anyone notice how she seemed to GIVE IN TO HER RAGE when she started wailing on Kylo Ren? I have heard it said that tapping into your passion gives you a lot of power in a hurry, but there's a cost.
As I see it, Rey's arc should basically answer what would happen if Luke Skywalker accepted the Emperor's offer. It could go like this: Luke already feels once bitten twice shy about training Jedi and he correctly sees seeds of trouble in the girl, so Luke sends Rey packing. This triggers abandonment issues and sends her into a tailspin, making it easy for Snoke to move in as a surrogate father figure. The movie has dropped pretty strong foreshadowing that Snoke will grab whichever apprentice looks more promising, to the point where it should have a spoiler alert. I think we shoud assume that Kylo/Ben's days in camp Evil are numbered (the light side just won't stop pulling at him) and Snoke will do whatever he can to get ahold of the girl who kicked Kylo's ass with no training. Rey's combination of skills would make her a formidable Dark Side user, perhaps requiring the combined skills of a Really Great Pilot, a Reformed Villain and a Reluctant Hero to bring her down. The great bond that she has with Finn would amplify the drama when they come face to face for (presumably) the last time. (ETA) Oh yeah, imagine that Luke takes on Finn as an apprentice after he sees how much of a problem Rey has become. That would really piss her off.
Also, Snoke is the same species as Maz Kanata. Bet you five bucks.