Dear Juicers,
Here's to a healthier, kinder, and more environmentally sustainable 2016! Okay, let's not talk about bacon or cheese. Let's talk about chili, stir fries, and muffins. Below are five ridiculously easy things you can do to invisibly veganize your cuisine. By invisible I mean that, in a blind taste test, you wouldn't know the dish is vegan.
1. Join Harvard, 7-Eleven, and many others and dump the mayonnaise: use Hampton Creek's vegan Just Mayo instead. Winner of a Serious Eats blind taste test, it's clearly freaking out Big Mayo (a.k.a., Unilever, maker of Hellmann's/Best Foods), which stupidly sued teeny weeny Hampton Creek to try to force them to change the name—a move that epically backfired.
2. Replace eggs in baking and cooking with apple sauce, flax seeds, a banana, or one of these. If you want a twofer, also swap in nondairy milk for the dairy. And by the way, pancakes and waffles work just fine sans eggs—you don't even need a substitute. (Add some nuts or vegan protein powder for more oomph.)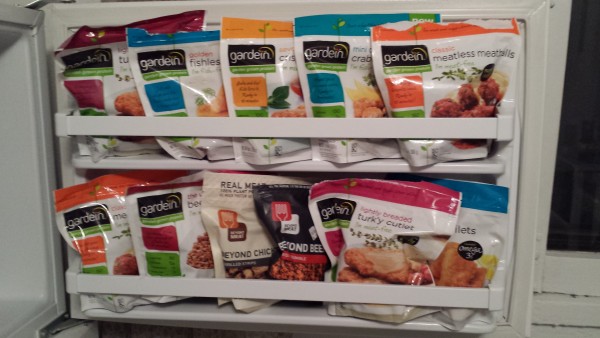 3. Try meat substitutes. Seriously, the new generation, like Gardein and Beyond Meat, is amazing: great taste, texture, and appearance; also, not too much salt and relatively straightforward ingredients. They are often soy- and gluten-free. The Clever Housewife did a blind taste test of Beyond Beefy Crumbles with her family and neither spousal unit nor child units noticed; and Bill Gates invested in Beyond Meat after he couldn't tell the difference between the company's chicken product and real chicken.
Most supermarkets now carry these products, so…check out our freezer! At the end of a busy day we pop one of these babies into a stir fry, chili, casserole, or sauce with a bunch of veggies, and we are there. Here's a giant page of meat (and other) substitutes.
4. Swap out the superfluous. Many breads, snacks, condiments, and other packaged foods contain superfluous dairy or egg. Check out PETA's ginormous list of "accidentally vegan" foods to see if there's a swap you can make.
5. OMG, TRY THE DESSERTS. Vegan. Desserts. Rock. You get all the sweetness and flavor, with less grease and weight (and calories, cholesterol, etc.) That means you can eat more of them! Check out the vegan dessert page of Chloe Coscarelli, winner of Food Network's Cupcake Wars; and non-bakers should know that you can buy premade vegan desserts at many supermarket bakeries. Also, there's a lot of fabulous nondairy ice cream out there. My favorite brand is Coconut Bliss, and of course we're all waiting to see what Ben & Jerry's does with their new vegan line.
For more ideas, check out one of the bazillions of vegan cookbooks out there, or Google "vegan _____," filling in the name of your favorite ingredient or dish. You will probably find some surprising equivalents. I once randomly (ahem) searched for "vegan Tootsie Rolls" and found that they exist in the form of TruJoy Choco chews. In the service of my cause (ahem), I did a taste test and found them to be good and true.
Speaking of cookbooks, allow me to introduce my friend and role model Mistress Ginger, author of one of my favorites, Mistress Ginger Cooks. Take it away, Mistress G, and on behalf of vegans everywhere thanks to our noble blogmeister John Cole for the invite. The Mistress and I will be hanging out in the comments to answer any questions or just talk about all things vegan. – Hillary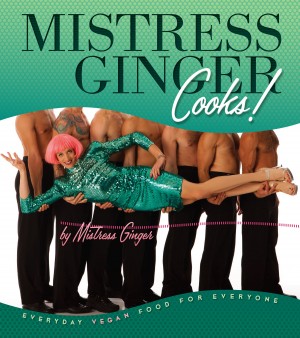 Hello everyone! I'm honored to be offering my high-heeled brand of plant-based cookery to the Balloon Juice blog. Thanks for having me!
Here we are in the middle of winter, and to me that means comfort food, including moist and delicious baked goods.
Now, just because I'm a vegan showgirl doesn't mean that I have to do without such decadent treats. Au contraire! At the same time, without anyone knowing it, I'm able to infuse these scrumptious morsels with some wholesome goodness. In the end, you get to satisfy your midwinter indulgence while meeting all of your New Year resolutions for a healthier you. Aren't you a lucky duck?
I hope you enjoy my recipe for Blueberry Stud Muffins, straight from my cookbook. Be sure to try the variations, too, as we all need a little variety in our stud muffins, don't we? – Mistress Ginger

Blueberry Stud Muffins
Yields 12 muffins
These delicately spiced pumpkin muffins are studded with dried blueberries. I encourage you to feed them to your personal entourage of stud muffins as part of a bountiful breakfast or midday snack. Try these muffins with a schmear of nondairy cream cheese for an especially luscious stud-muffin experience, something I'm always up for.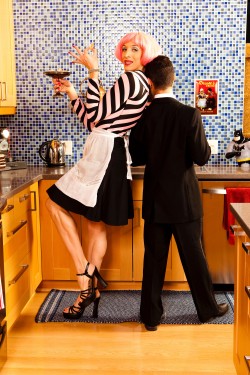 2 cups whole wheat pastry flour
2 teaspoons baking powder
2 teaspoons ground cinnamon
½ teaspoon baking soda
¼ teaspoon ground nutmeg
¼ teaspoon salt
⅛ teaspoon ground cloves
⅛ teaspoon ground ginger
1 cup pumpkin purée
½ cup maple syrup
½ cup vanilla nondairy yogurt
⅓ cup canola oil
¼ cup sugar
1 teaspoon vanilla extract
½ cup dried blueberries
Preheat the oven to 350 degrees F. Lightly oil a twelve-cup muffin tin or line it with paper stud-muffin cups.
Put the flour, baking powder, cinnamon, baking soda, nutmeg, salt, cloves, and ginger in a medium bowl. Stir with a dry whisk until well combined.
Put the pumpkin purée, maple syrup, nondairy yogurt, oil, sugar, and vanilla extract in a large bowl. Stir with a whisk until well combined.
Add the dry mixture to the wet mixture and stir to combine. Fold in the blueberries.
Pour the batter into the prepared muffin cups, filling each cup completely.
Bake for 20 to 25 minutes, until a toothpick inserted in the center of a muffin comes out clean. Let the muffins rest in the muffin tin for about 5 minutes before transferring to a cooling rack. Serve warm or at room temperature.
Blueberry Stud Muffins will stay fresh for up to 1 week when stored in a tightly sealed container in the refrigerator. Your personal entourage of stud muffins will stay fresh as long as they wear a good cruelty-free deodorant and bathe at least once a day. I'm prepared to assist with the bathing.
Per muffin: 209 calories, 3 g protein, 7 g fat (1 g sat), 35 g carbohydrates, 163 mg sodium, 122 mg calcium, 4 g fiber
Pumpkin-Raisin Stud Muffins: Imagine that you just ran out of dried blueberries but are dying for some hot stud–muffin action. Simply substitute the dried blueberries with ½ cup of raisins. Problem deliciously solved.
Chocolate Stud Muffins: What? You've never had a chocolate stud-muffin experience? Oh, darling, you're missing out! Substitute the dried blueberries with ½ cup of nondairy semisweet chocolate chips and cross "chocolate stud-muffin experience" off your bucket list.