I've been honestly puzzled about Lil' Marco's failure to catch fire as a credible GOP establishment alternative to Trump. Sure, Rubio is a dim bulb, but he can string together a coherent sentence and isn't completely hideous. He's able to mouth extremist talking points in a calm, reassuring voice.
Thus far, Rubio has made a respectable showing in the debates. He is generous with feel-good anecdotes about the greatness of America, which allowed his bartender / hotel-maid parents to spawn a full-time political grifter.
On paper, Rubio looks great. He checks off all the wingnut requirements on the policy side and seemingly addresses the imperative to stop pissing off the fastest-growing bloc of voters, Hispanics, without being too threateningly not-white. So why the failure to launch? Thanks to Vanity Fair, I get it now. Behold: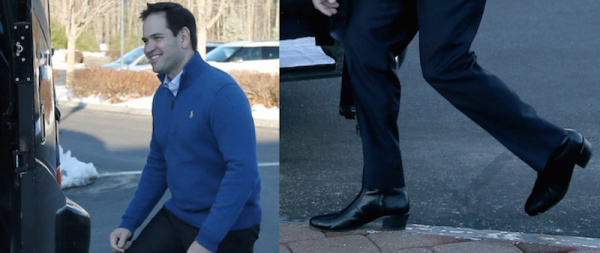 Nope. That precious footwear won't do at all, and the cobalt Ralph Lauren pullover does him no favors either.
Look, I don't care what a candidate wears. If Bernie Sanders wants to raise awareness about income inequality in a tie-dyed caftan and Birkenstocks, if Hillary Clinton trades in her trademark pantsuits for a bumblebee costume paired with vintage go-go boots — I'll still vote for our nominee over any of the GOP clowns, even if that clown comes packaged in an impeccable Savile Row suit.
But these things matter to GOP voters, who gravitate toward camo and cowboy togs. Ted Cruz's communications director understands this, which is why he linked the photo above and tweeted "A Vote for Marco Rubio Is a Vote for Men's High-Heeled Booties."
Ouch. If Rubio wants to win this thing, he needs to stop allowing his wife to dress him and seek the sartorial advice of the Duck Dynasty people — stat.