Please meet Billy, a.k.a., Chucklehead, Coconut Head, Silly Billy, Billy Bananas, Young Fur (Call the Midwife reference!), and The Dog With Too Many Nicknames. He's a pom mix–basically, the world's biggest pom. (Or at least Kalamazoo's.)
We adopted him as a rescue two years ago when he was twelve. He is deaf and down to one tooth but otherwise in pretty good health for a senior.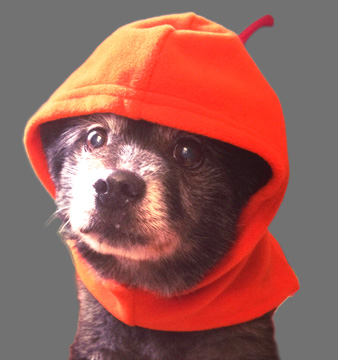 At right is the "punkinhead" picture that got him adopted.
Billy's not one of those dogs who gets all sloppy and emotional on you. He's chill, an impartial observer. He keeps his distance. He'll only smooch under duress. Basically, he's 40 pounds of attitude in a 20 pound dog.
There's only one exception: kids. Billy loves kids. All kids, from preschool on up. When he sees a kid, he drops all pretense and turns into a wagging, grinning, kissing bundle of OMG C'MON LET'S PLAY!!!!!
I love this behavior, but it also obsesses me. Like many rescue parents, probably, I'm haunted by Billy's unknown past and how he wound up in a shelter. I'm guessing he lived for many years in a household with kids. Did he run away? Did they dump him for the crime of getting old? Or is it another story entirely? These are unanswerable questions that, if I think about them too long, will drive me crazy. So I try not to.
Anyhow, back to the 'tude. I asked him to model, and this is what I got: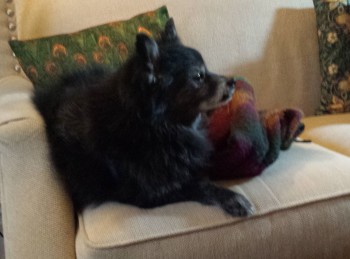 I told him it was for Balloon Juice, and he responded accordingly: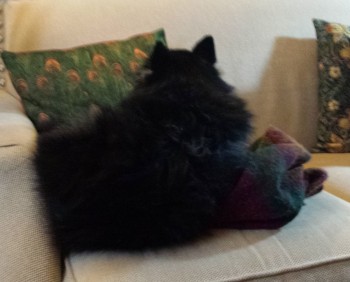 Oh yeah, I forgot one of his nicknames: Stinkerbelle.