Pound cake, to be precise: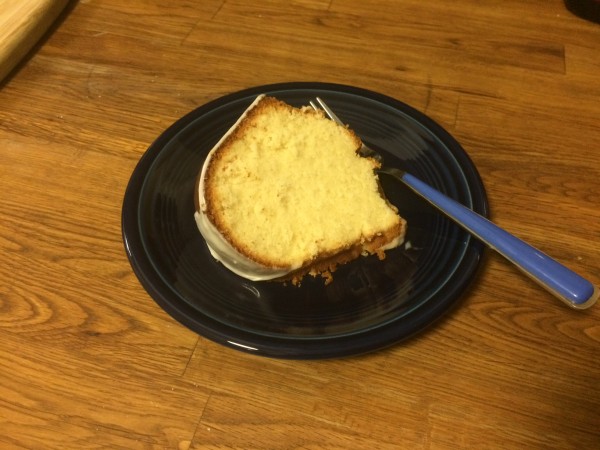 Great-Grandma Cracker's recipe turned out pretty well. Next time I'll take it out of the oven five minutes sooner. I followed the old lady's recipe to the letter, but I suspect our ovens have different ideas of what constitutes "350 degrees." Still, it's good.
The Green Bay Fighting Socialists are looking pretty good in the NFL playoffs. Downtown Abbey to follow.
What are you up to this evening?
Update: As promised, here's the recipe —
Ingredients:
– 3 cups of all-purpose flour
– 1/2 tsp. salt
– 3/4 tsp. baking powder
– 2 sticks sweet cream butter
– 1/2 cup Crisco
– 5 large eggs
– 2-2/3 cups sugar
– 1 cup heavy cream
– 2 tsp. vanilla extract
Instructions:
Grease and flour Bundt pan and set aside. Don't preheat the oven.
Mix butter, shortening and sugar until well blended. Sift flour, salt and baking powder together into a large bowl (preferably with a spout).
Break eggs into a small bowl and add to butter and sugar mixture one at a time, completely incorporating each before adding the next. Then add sifted flour to the mixture a little at a time, alternating with splashes of the cream and ending with the flour. After the last of the flour is blended, the batter should be smooth and glossy.
Pour batter into prepared pan and smooth out with spatula. Place in cold oven and set heat to 350 F. Bake for one hour and 20 minutes* or until toothpick inserted into cake comes out clean.
*Next time I make this cake, I'll start checking it sooner. Maybe it's just my oven, but I took it out nearly 10 minutes early and could have taken it out five minutes sooner than that, whereas Great-Grandma always cooked hers for exactly one hour and 20 minutes. My oven heats up super-quickly, and I suspect that accounts for the difference.