Now that we're into day 9 of the occupation of the Malheur Wildlife Refuge by Ammon Bundy and his compatriots its time to check back in and see what's happening. While there are a few signs of normalcy in that the Harney County Schools are back in session and Federal law enforcement has set up a command post in Harney County. Though they are being very tight lipped about what, if anything, they have planned.
In the meantime things are just downright weird. Bundy and his followers released a list of supplies they needed or wanted. The list had over eighty items on it including vanilla flavored coffee creamer – very chi chi. And their requests seem to have been fulfilled.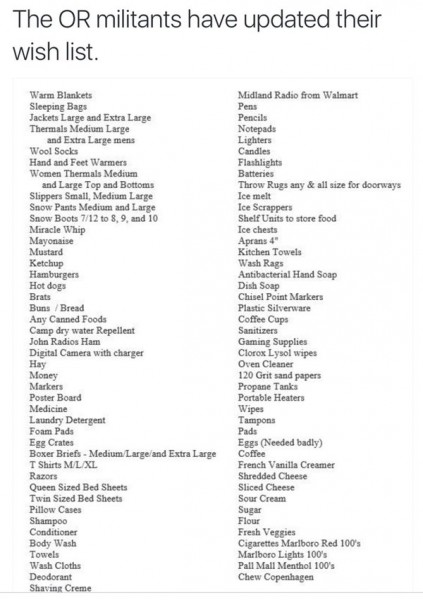 They've also been allowed to come and go – to shop and attend church. But things got really surreal when militiamen from the Pacific Patriots Network answered  Ammon Bundy's video based call for assistance and actually showed up to provide assistance. When they got to the refuge they were told by Ammon Bundy that he had not asked for them to come and their presence wasn't wanted. So they headed into town to talk to the sheriff.
But wait, there's more! The most junior Oregon state representative, despite being told to stay away, showed up with a group of out of state state representatives in tow on a fact finding mission. And then brought Nevada state legislator and Bundy fangirl Michelle Fiore in by conference call.
Today's reporting brought other fun surprises! Apparently Bundy has been planning this for months with a militia leader from Montana. They've also destroyed a fence on the wildlife refuge property and put up their own signage to replace/cover the official Malheur Federal Wildlife Refuge signage.
While its likely that this is not serious reporting, there are two reports that enraged birders* are massing, incognito, in Burns to retake the wildlife refuge.
Finally, I think its important to note that in 2014 Idaho studied the impact of trying to reclaim Federal lands and place them under state and local administration. You'll not be surprised to find out that the results of the study were that it wasn't feasible. As in it was $111 million a year unfeasible. That's because everything that the Federal government – as in you and I – now pays for would have to be paid for solely by Idahoans. This includes firefighters for wildfires, rangers and other park and land managers, signage, road repair, utilities, etc. In historical context these results are not really surprising given that this was how we used to do things before President Teddy Roosevelt and it never worked out well at all. You won't be surprised to learn that this has not stopped Idaho officials from pursuing the idea anyway.
* It was unclear if these are birdwatchers, people who hunt with raptors – like hawks and falcons, or some combination of the two.