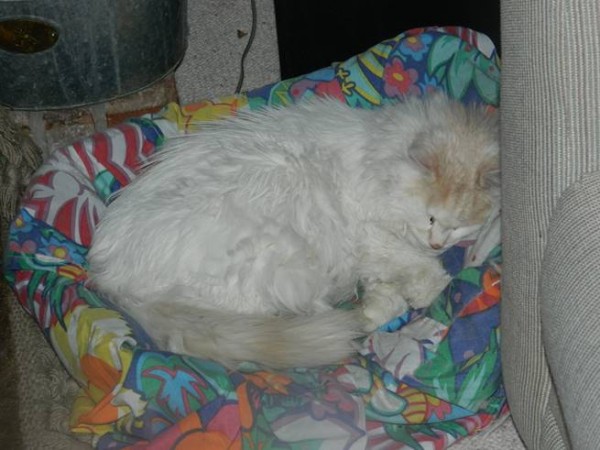 From commentor DanielX:
Thought it would be good to update with a couple of shots of our boy Eric, who is currently celebrating his 19th – yes, 19th! – year. He's shown in his favorite location (his kitty bed beside the fireplace) and at his favorite occupation these days (sleeping), one with more or less full facial and one with nose carefully tucked into tail for warmth.

He came back successfully from his hostile encounter with the pit bull summer before last, though it took a major toll on him. He's a mite decrepit these days, what with arthritis and so forth, but still enjoys eating (several times a day in small meals), enjoys his catnip, and wants a great deal of attention – when he wants it, that is. He moves pretty slowly unless there's a stranger around, and watching him turn around between the couch and coffee table is like watching an aircraft carrier backing and filling. We're just letting him enjoy life as much as he can and giving him everything we can give him. I got a reminder email of a six month checkup at the vet a month or so back. I thought about it and said nah, his shots are current and he doesn't seem to be in pain, no point subjecting him to any stress he doesn't need, since odds are these are his last holidays. Our best boy….
***********
Speaking of survivors — this morning our 14-year-old rescue dog Zevon and 8-year-old Sydney are scheduled for dental work, which especially in Zeev's case is liable to be a prolonged bout of extractions. Surgery is in the hands of the top canine dental specialist at Angel Memorial (the Spousal Unit insisted), so odds are good they'll be home by evening, but I'd appreciate any positive thoughts y'all have to spare.
It's been a while since I did any purely-for-love pet story posts… if any of you have photos / stories about your animal companions to share, email them to me (click on my name in the right column, or annelaurie [at] verizon [dot] net) and let's have some day-starters that aren't depressing, yes?