AL covered this already, but I have to admit I was kind of flabbergasted by the response. That doesn't mean I was surprised by it- I fully expected it. I mean I was just flabbergasted by the extent of the idiocy of it all. I mean, what in the flying fuck did they EXPECT to happen when our ships went into someone else's waters? Even if it was an ally like Britain, they would have sent someone out.
And the fact that this was such a docile encounter is kind of shocking. In my mind, it went something like this:
Navy: Derp.

Iran: Hey guys, whatcha doing?

Navy: Umm, uhh, fishing?

Iran: No, you're not.

Navy: Ok. You got us.

Iran: Alright, come on now.
And then they gathered their stupid asses and broke-dick crafts up, gave them some pillows and delicious looking snacks which were most assuredly better than anything I can get in this Mediterranean food desert I live in and without question the fucking god awful Halal MRE's we'd have chucked at their guys. I mean look at this: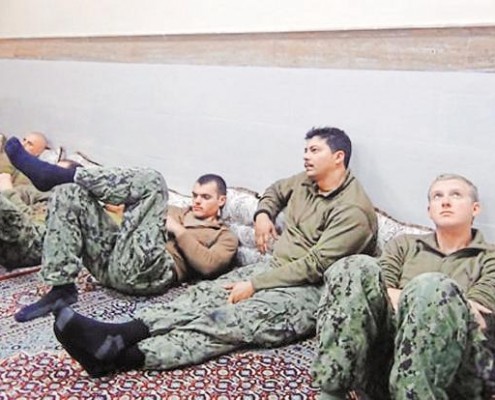 First off, those rugs are amazing. Second, I would love some pillows like that but Thurston would chew the fuck out of them. Third, if I saw this while I was on active duty, I'd have thought "I could use some fucking R&R, too." And then, within fifteen hours, faster than any travel agent I know could arrange a ride home from Iran, they were back in US custody.
That's it. That's what big bad Iran did. Oh, yes- they made us apologize. Horror of horrors. We just stumbled into their yard in a drunken stupor, they brought us inside, gave us some snacks, sobered us up and called mom and dad, and we had to say "my bad" while we were getting in the minivan on the ride home.
Now, think for a second what we would have done had a bunch of Iranians been caught floating off the coast of Virginia Beach. Do I even need to give you ideas of McCain or Cotton or one of these other idiots might have handled the situation were they in charge? Thank goodness our military is professional and would not freak out like our elected Republican leaders would
BTW- one of those sailors was black. Which means it is safer for a heavily armed black man in Iran than it is in a park in Cleveland.