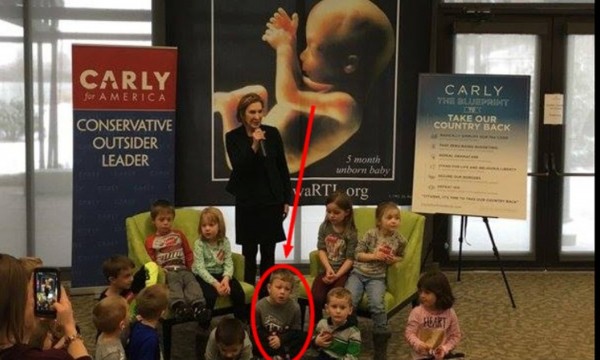 This is just straight up fucked up:
Carly Fiorina has been accused of "ambushing" a group of children, after she ushered pre-schoolers, who were on a field trip to a botanical garden, into an anti-abortion rally in Des Moines.
Live Hillary Clinton attacks Sanders on healthcare in Iowa – campaign live
Join us on the campaign trail in Iowa and New Hampshire as Republicans try to dig into Trump's commanding lead in the Granite State
Read more

On Wednesday, the former Hewlett-Packard chief executive embarked on a day of campaigning across Iowa, in an attempt to boost her ailing presidential campaign.

The alleged ambush occurred when Fiorina hosted a "right to life" forum at the Greater Des Moines botanical garden. Entering the rally, before a crowd of about 60 people, she directed around 15 young children towards a makeshift stage.

The problem, one parent said, was that the children's parents had not given Fiorina permission to have their children sit with her – in front of a huge banner bearing the image of an unborn foetus – while she talked about harvesting organs from aborted babies.

"The kids went there to see the plants," said Chris Beck, the father of four-year-old Chatham, one of the children Fiorina appeared with. "She ambushed my son's field trip."
Is that even legal?