——–UPDATE——–
Les Zaitz is reporting on his twitter feed that the US Attorney for Oregon, the Supervisory Special Agent in Charge (SSAC) for the FBI (most likely the Portland Field Office), and the Sheriff (most likely Harney County Sheriff Ward) will hold a press conference tomorrow at 10:30 AM PST.
——————————
JJ McNabb at her twitter feed has indicated/reported at 7:43 PM (unclear if this is Pacific Time) that Blaine Cooper is "preparing for a hard stand" at the refuge.
—————————–
It has now been confirmed that Arizona rancher, foster parent, and self made Constitutional expert LaVoy Finicum was the person who was killed in the firefight between Ammon Bundy and those accompanying him and the FBI and Oregon State Police.
And Ritzheimer surrendered in Arizona.
—————————–
The new question will be how do the FBI, State, and local law enforcement wind down and round up the remaining occupiers at the Malheur Federal Wildlife Refuge. And how do they deal with the various Oath Keepers, III%ers, and other militia and sovereign citizen folks in Harney and Grant Counties.
——————————
FBI Statement (h/t: Origuy):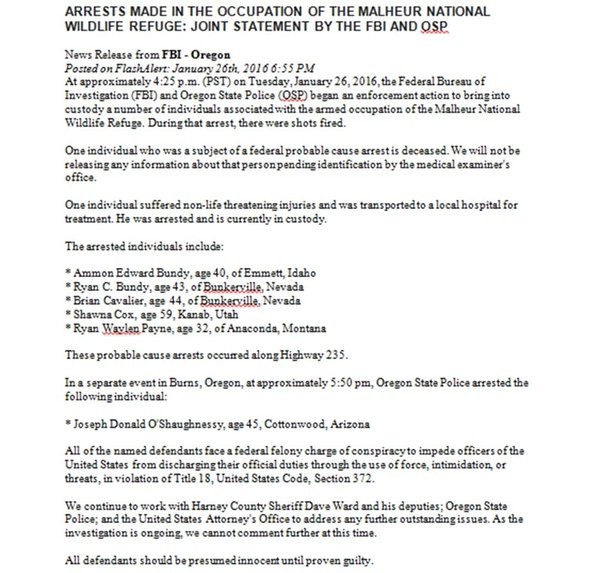 As BettyC intimated a few minutes ago, Ammon Bundy and 8 others have been taken into custody after exchanging gunfire with the FBI. It is unclear who began the firefight at the traffic stop. No reports yet on whether anyone was injured.
—————————-
We are now in Day 24 of the standoff at the Malheur Federal Wildlife Refuge. Ammon Bundy and his followers have now set their sights on taking over neighboring Grant County. There is a meeting there tonight and the Grant County Sheriff, Sheriff Palmer, is both a member of the Constitutional Sheriffs and Peace Officers Association (CSPOA) and a fellow traveler of the Bundys. He's made it clear he's not going to back up Sheriff Ward in Harney County and the Oregon Sheriffs' Association has called for him to get with the (law enforcement) program. The good news is that Grant County's Gray Zone is pushing back on Sheriff Palmer. His former Undersheriff Tom McKinley, who is the current Director of the Corrections Facility, has filed to run against him to ensure that there is real, proper law enforcement in Grant County, Oregon.
Last night's Harney County community meeting – as in a meeting of the actual community, not the bogus sovereign-citizen and Bundy aligned Harney County Committee of Public Safety, had to be cancelled. Judge Grasty, the senior county official in Harny County cancelled it because of the number of armed, non Harney County residents in Burns and the surrounding areas. Grasty was clear that he wasn't happy about this and the ongoing intimidation, but that the safety of the community is the priority right now. He has also, now, formally called for the FBI to move against Bundy and his fellow occupiers. The local Paiute community has also called on the FBI to act, especially as the occupiers have bulldozed across several archeological sites.
The ongoing occupation is also negatively impacting Harney County schoolchildren. Specifically, and as I'm sure everyone can imagine, it is stressing them out. There are concerns about violence being expressed from students as young as 5. Speaking of children, there some strange things happening with children at the refuge. Florida Man (what else?), Tea Party activist, and self appointed soveriegn citizen judge Joaquin Mariano DeMoreta-Folch, traveled to Arizona with the wife of one of the Malheur Refuge occupiers. There he impersonated a law enforcement officer to coerce her relatives to turn her two daughters over to them. They then took the children to the refuge in Oregon, where local news has reported they are now staying with their parents. This is at least a Class 6 felony* in Arizona and the authorities there are investigating. Another interesting family event has also taken place among the occupiers. A Kansas mom brought 9 of her 10 kids – one was taken away from her by Kansas Child Protective Services – in order to perform patriotic and religious songs for Ammon Bundy and company. She also took the family on tour to the Bundy Ranch standoff in 2014.
Joaquin Mariano DeMoreta-Folch, when he's not busy impersonating law enforcement officers, has come to Oregon to oversee the sovereign citizen's court and dispense justice. He's already begun threatening reporters and intimating that the local elected and appointed government officials of Harney County will be charged. DeMoreta-Folch traces his authority, and that of his court, back to the Magna Carta, which has not only never been the law of the land in the US, but was also an agreement between the English crown and the nobility and had nothing to do with actual citizens.**
Finally, we end with the strange and the bizarre. Joseph Stetson was intercepted and arrested by Oregon State Police. He was open carrying a pellet (BB) gun, was visibly intoxicated, and claimed he was going to join the occupation at the refuge to kill law enforcement officers. When he was taken into custody, the body cam recordings captured him exclaiming that he is a Green Beret colonel and that President Reagan, himself, had sealed his records. Since he's 54 now, and there hasn't been a 27 year old colonel in the US Army – Conventional or Special Forces – since the Great Rebellion, now doing business as the Civil War, we can reasonably surmise that he is neither a Green Beret nor a colonel. To top that bit of excitement, an Idaho based occupier*** named Kelly Gneitling has challenged Governor Christie of New Jersey to a 10 falls Sumo basho (match) to settle the occupation (warning: picture and video of Mr. Gneitling at the link in a mawashi – you've been warned!). If Governor Christie wins just one fall, the occupation will end.
* It depends on whether the impersonation was part of another felony. So if they find that he helped to kidnap the kids, then the level of offense would change.
** At the time there were no English or British citizens, just subjects.
*** I really don't know what this means. Is he such a large Sumo tori that he can occupy the refuge in Oregon from his home in Idaho? Or does this mean he's virtually participating in the occupation – either via facetime or skype or just in spiritual solidarity?