We'll see how IA goes, but Trump has overwhelmingly won his fight with Cruz nationally https://t.co/apeDt2fbnh

— Benjy Sarlin (@BenjySarlin) January 26, 2016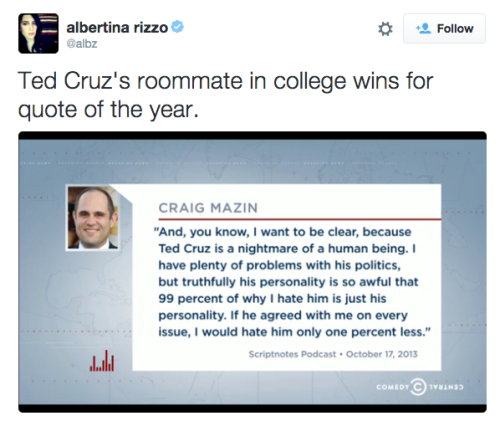 This totally cracks me up. All Trump has to do is say "Cruz is a jerk and no one like him and no one will work with him and he sucks as a person" and pretty much everyone nods and silently agrees with him. Serves the shithead right, and I bet the Senate Republicans he's screwed over are loving it.
Here he is doing just that today:
Donald Trump said Tuesday that Ted Cruz, his chief opponent in the race for the GOP nomination, is a "liar" who "looks like a jerk."

"Ted Cruz lies. He is a liar," Trump said in an appearance on MSNBC's "Morning Joe." "That's why nobody likes him. That's why his Senate people won't endorse him. That's why he stands on the middle of the Senate floor and can't make a deal with anybody."

"He looks like a jerk," Trump added. "He's standing all by himself."
It's just awesome.