Like the Trump supporters described in Zandar's post below, some of us have been angry to see "a segment of the population 'getting away' with breaking the law." Well, the feds scooped up several of the lawbreakers last night in Oregon and shot one of them, LaVoy Finicum, who was semi-famous for making a living off foster child labor and giving interviews from under a blue tarp: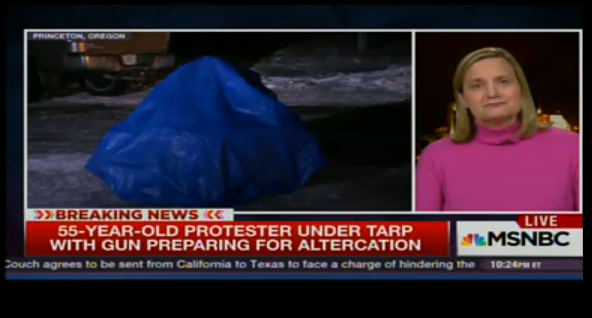 In a macabre echo of a #BLM (as in "Black Lives Matter," not the "Bureau of Land Management") rallying cry, Finicum's supporters are claiming FBI agents murdered him in cold blood while he had his hands in the air. I suspect that claim will be convincingly debunked.
Unlike the unarmed black men killed while engaged in non-confrontational activities such as selling loose cigarettes, Finicum had been waving guns around while yammering about dying in defense of his right to mooch off the federal teat for weeks. He got his wish when he exited a vehicle at an FBI road block last night "brandishing" a fire arm and was shot dead.
In addition to being a tarp dweller, foster child exploiter and now militia kook martyr, Finicum was also the author of a "post-apocalyptic cowboy thriller" whose protagonist was also a middle-aged white rancher with a hate-on for the feds. This excerpt describes the scene after the novel's hero confronts evil government agents:
"The bodies of my enemies lay before me, not a twitch coming from them. Holding the old revolver in my hand, I could not help but spin it around my finger once before sliding it back into the holster."
Another fool learns too late that life – and death — ain't like the movies.