The Iowa results on the Democratic side perfectly reflected my own fence-sitting sentiments — basically a tie with a slight lean toward Hillary Clinton. Maybe the primaries will still be important by the time I get to vote on the Ides of March!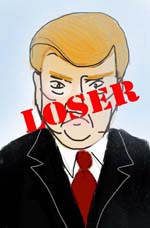 Trump's loser speech was as short as his stubby, vulgarian fingers since he had no polling leads to brag about. He didn't call Iowans stupid, but you knew he wanted to; instead, he opted for phony graciousness. That stripped away the alpha primate façade. It was like watching the biblical Samson shave his head onstage.
Team Lil' Marco needs to Apollo-13 a solution for the candidate's terrible thirst — maybe an under-the-jawline port connected via translucent tubing to an under-the-jacket CamelBak hydration system. All during his third-place "victory" speech, he was rolling his lips like a llama working up an epic loogie. Never have I seen someone so very thirsty and yet so prohibited from taking a sip.
Looks like Team Lil' Marco took my advice and shit-canned the advisor who told the candidate to lose the children's storybook-reader voice and dial up the anger. The words that emerged from the Sahara of Rubio's parched pie hole signified that the phony optimism is back, along with the ersatz children's fairy tale style of beginning sentences with the word "for."
Cruz sounded like the psycho he is. To paraphrase someone in a previous thread, the boring psycho beat the somewhat interesting one. I like that Hillary Clinton stepped on his victory speech. Nice touch, Team Clinton.
And finally, can we take a moment to dance on Jeb Bush's political grave? Not just that — can we bury the Bush Dynasty and drive a stake through its fat black heart at last? Here's hoping Jeb's odious super PAC aims its squid cloud of money-propelled butt-hurt squarely at Rubio and takes him out so we can start with a clean slate unbesmirched by that wretched family's malign influence.
Richard is absolutely right to caution against extrapolating from the Iowa results, but Bush couldn't even buy 3%. That motherfucker is toast, and it's a great day in America. Thanks for that, Iowa, if nothing else.
Open thread!
PS: Today's Chicago meetup info right here.