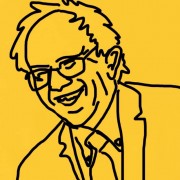 I saw a brief clip of MN Rep. Keith Ellison last night on one of the MSNBC programs to discuss the Iowa caucus results. Ellison supports Bernie Sanders, but he doesn't fit the "Bernie bro" stereotype so derided in comments here. He's calm and gracious, qualities he no doubt had ample opportunity to hone when he co-represented the Gopher State with hysterical rightwing nitwit Michele Bachmann.
Maybe trial by pinwheel-eyed lunatic gives people clarity of thought if they can refrain from responding in kind. After discussing Clinton's tagline, "a progressive who gets things done," Ellison noted that we can thank Bernie Sanders for the fact that both Democratic candidates embrace the progressive label. He's right.
Clinton will almost certainly lose in New Hampshire, probably by a wide margin, and though that's expected, the Beltway pundit frenzy that began in muted tones when her lead in Iowa slipped and ratcheted up when she squeaked out the narrowest possible victory will roar to life full force if she loses. The din will grow deafening in the week and a half before the voting starts again in Nevada and South Carolina.
Team Clinton will have a choice to make. Team Sanders will too, but more of the pressure will be on Clinton if she loses big in New Hampshire. The Clinton campaign can wink and nod while "outside" groups like the loathsome David Brock's "Correct the Record" organization ramps up attacks on Sanders, or she can publicly call off the dogs. I hope she does the latter.
Here's a sample of the garbage Brock and his minions, who now include Peter Daou (the same Daou who once begged Democrats to remember that Sarah Palin used to be "a little girl"), plan to dump:
"When the conservative machine cranks up and kicks into high gear, Bernie will be eviscerated, turned into an aging cartoon Commie, a flip-flopping America-hater, a 60s holdover writing bizarre essays about free sex and child rape fantasies, a non-Democrat Democrat whose embrace of the NRA undermines his claims to purity, a politician who voted against the Amber Alert system, a draft dodger, and a man who thinks women's rights are a distraction," Daou wrote in a post for Blue Star Media.
Yeah. And if Clinton wins, the Wingnut Wurlitzer will paint Hillary as a castrating bitch who allowed her unsatisfied man to go wilding on random interns, a man-hating lesbian goon who murdered Vince Foster, a power-mad hag who sold out Israel to appease the mullahs in Iran, a tool of the gay agenda who will confiscate every red-blooded American sportsman's firearms and use them to perform involuntary shotgun same-sex marriages, after which the guns will be melted down to create a giant metal vagina shrine for the White House lawn.
The Democratic candidates can't control the conservative media, but they can control how they react to it. They can and should respond to its attacks, but they ought to refuse to do its dirty work on each other.
There's a lot of talk about the disaffected youngs who are disgusted with the political process and how that bodes ill for the Democrats, especially if HRC is the nominee. Maybe we could flip the script if our candidates continue to have substantive discussions that focus on their different visions of achieving similar goals while the Republican candidates use every forum to rip each other to pieces, lie about Democrats and paint present-day America as a post-apocalyptic hellscape. Worth a shot?