This is a follow-up from yesterday's post on United Healthcare self-inflicted woes: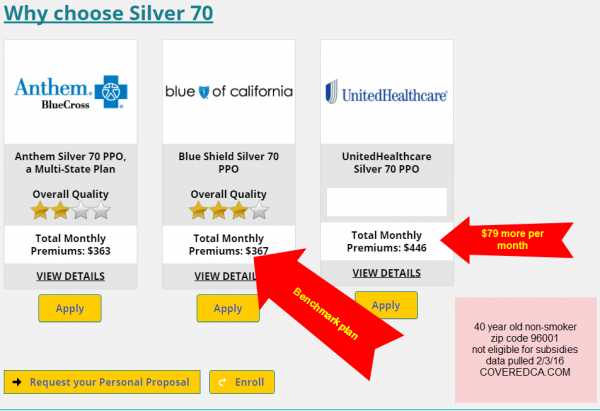 I chose Redding, California as it was the first town in Northern California that was readily apparent on Google Maps. As you can see, for a 40 year old non-smoker, United Healthcare's lowest priced Silver is $79 more per month than the benchmark plan.  For someone making exactly 150% of the Federal Poverty Line this is roughly 5% more of their monthly income.
Andrew Sprung on another matter pulled up UHC's pricing versus a narrow network Medicaid based insurer in several major markets:
@bjdickmayhew @rebeccastob @charles_gaba @adamcancryn cf UHC pricing vs Ambetter's https://t.co/wy8s4qnxS1 pic.twitter.com/Qe8LzV7deQ

— xpostfactoid (@xpostfactoid1) February 3, 2016
Again, the difference between the cheapest plan and the lowest priced UHC plan for someone who makes 150% FPL is several percent or more of their monthly income.  In Atlanta and Chicago, to buy UHC's products it would be a bump of 6% of monthly income for that individual.
We know the Exchanges are price sensitive for most people.  The only people where the 6% of their monthly income might be worth it would be people who know they are very sick and they have very high needs that they want to have met by doctors they've seen for years at facilities they have used for years.