With an emphasis on the odds…
The missing Blaine Cooper has surfaced. He was at LaVoy Finicum's funeral where he was interviewed by Carli Brousseau of the Oregonian. He told her he did not know why he wasn't indicted and that he doesn't need to be armed to make his point. Also, he has a felony conviction that prohibits him from lawfully owning firearms. That's why you can see him armed in this photo standing behind the guy leaning in on the left. That is a handgun at a fifteen degree cant on his right hip above the hip bag.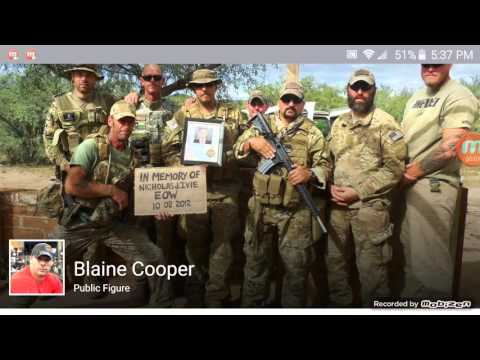 *
According to Amelia Templeton of Oregon Public Broadcasting, Cliven Bundy gave a talk to a dozen people from Harney County that travelled to attend Finicum's funeral. JJ McNabb, on her twitter feed, is also reporting that the militia meet up in Halfway is cancelled because the Lion's Club returned the rental fee for their facility. She's also reporting that a call has gone out to liberate Harney County from the Constitutional Enemy Forces by a leader of the III%ers. And the Harney County of Committee of Safety has called for 2,500 men to secure the committee while they work up indictments of Federal, state, and local officials from harassment from those officials.
Susan Hennessy at Lawfare** has some deeper analysis of the DOJ activities in the Reuters report I put in the comments last night about DOJ rethinking the material support to terrorism statutes.
And in good news for Betty Cracker's school age daughter, as well as Floridians everywhere, a Florida State Supreme Court Justice has gotten the state's civic's education program to stop distributing the Cleon Skousen annotated pocket constitutions they bought from his and his surviving family members' constitutional research institute. I'm sure that with just several months of deprogramming BettyC juniorella will be back to normal and will stop trying to muster and drill the chickens in the use of the AR-15 in case the Man comes and attempts to round them up and move them to a FEMA trailer or something.
Finally, something good has come out of all of the hubub in Harney County. One local resident showed up at a counterprotest last week and did this (h/t JJ McNaab):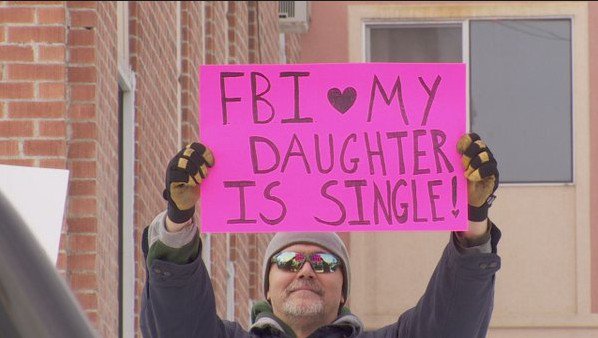 Apparently someone at the FBI noticed leading to this: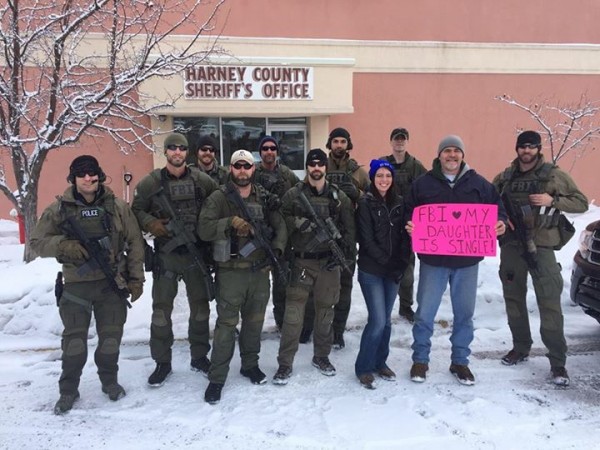 Yep, that's the single and smiling daughter standing with Dad and the FBI. Just in time for Valentine's Day…
** Full disclosure: I'm acquainted with Robert Chesney the founder of Lawfare though we haven't been in touch for several years.