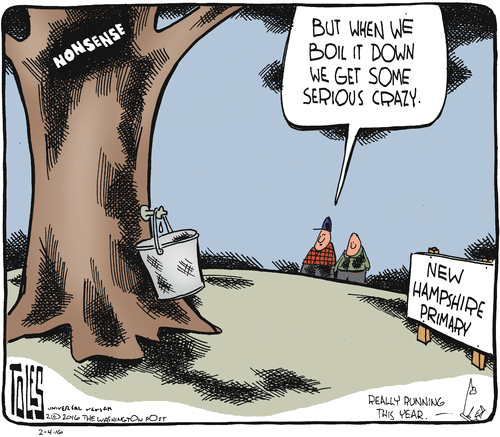 If we were designing the primaries from scratch, would we make candidates first compete in Jan/Feb in states likely to be buried by snow?

— daveweigel (@daveweigel) February 5, 2016
There's yet another GOP debate tonight (8pm EST, on ABC), but I don't think I'll be watching it. Stage is down to "just" Trump, Cruz, Rubio, Carson, Bush, Kasich, and Christie. The NH primary is on Tuesday, in the face of two potentially troublesome snowstorms, because apparently the weather gods are beginning to hate the media/campaign people almost as much as those of us bombarded with pre-primary political ads. And yet, "everybody" has to pay attention to New Hampshire, just as "everybody" had to pay attentio to Iowa. Is this really any way to officially start a national competition with so much depending on the outcome?
Professor Krugman:
The outsized role the Iowa caucuses play in the nomination process is, as almost everyone acknowledges, sort of stupid. But where does it come from? The immediate answer is that it's about the news media, which seize on the Iowa results and use them to tell narratives that can, in turn, have a huge impact on fundraising and later voting…

…[I]t's obvious that the media have strong herding instincts; almost everyone wants to be somewhere close to the middle of the pack, telling the prevailing narrative. But there are many narratives that could, in fact, prevail. Partly that's because such narratives can be self-fulfilling, and partly it's because actually being, you know, right isn't that important compared with being on top of the trend. So anything that gives special salience to a particular narrative can produce convergence on that narrative, even if everyone realizes that what's going on is basically stupid…
Turnout for Iowa Caucus 358K or 15.7% of eligible Iowans, down slightly from 16.1% in 2008 https://t.co/a3NvSqlzDU

— Michael McDonald (@ElectProject) February 2, 2016
The people have spoken: 15.7 % of a wildly unrepresentative state https://t.co/4Uldpevuj2

— Norman Ornstein (@NormOrnstein) February 2, 2016
The caucasians have spoken.

— Bill Hammond (@NYHammond) February 2, 2016
None of the camps in either party are happy with the Iowa results — there's an argument to be made that the whole jury-rigged "heartland virtues" system just made things worse this year, between the Cruz people ratfvcking Carson to cheat Trump (to the earned-media benefit of Rubio), and the penny-ante thimble-rigging required on the Democratic side to assign a finite number of delegates before all of them died of ennui.
And nothing I've seen indicates that New Hampshire is going to be any less of a circus.
Is this really the best we can do?
The NH establishment race has taken on quality of a Wharton novel wherein characters relegated to unhappiness will ruin the innocent.

— Katherine Miller (@katherinemiller) February 6, 2016