Reading Ann Laurie's post reminded me of the obvious: being aware of the experience of others takes constant effort.  And, (as I wrote about one example here), the failure to do so amidst white male self-assumed universality leads to harm in just about any domain — more for those dismissed, but non-zero for the presumed pre-MOTUs as well.
With that as pre-amble, check out this from CNN Money:
All virtual assistants have to deal with inappropriate comments and questions. From seasoned vets like Siri and Google Now, to the rash of new specialists with names like Amy, Molly, Mia and Robin.

When Microsoft launched Cortana in 2014, a good chunk of early queries were about her sex life, according to Microsoft's Deborah Harrison.

It turns out people feel very comfortable talking freely with text and voice assistants. Humanizing the bots with names, faked emotions, personalities and genders (mostly female) helps build trust with users.
Microsoft has its corporate head in the right place, at least on this one:
Cortana is clearly identified as a woman. She has a female avatar and is voiced by human woman Jen Taylor. But the writers are conscious about avoiding female-assistant stereotypes. Cortana isn't self-deprecating and avoids saying sorry.

"We wanted to be very careful that she didn't feel subservient in any way … or that we would set up a dynamic we didn't want to perpetuate socially," said Harrison.
But the 'bros and any MRA/PUA trogs need not worry.  The market will make sure that their all too familiar sex/power fantasies will find their representation in our brave new era.
Not all assistants will take the same firm approach. Robin Labs, which makes a voice-assistant for drivers, thinks there might be a market customizing personalities. CEO Ilya Eckstein says there is a high demand for an assistant personality that's "more intimate-slash-submissive with sexual undertones."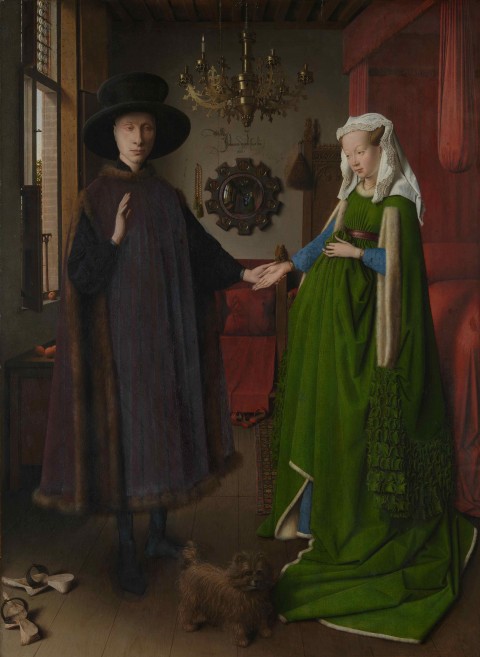 All of which to say is that it's easy to call out, say, Chris Christie, when he talks of beating Hilary Clinton's rear end.  As all here know, it's far harder to combat the influence of the jabs and gestures that pervade daily life, well below the level of explicit speech, up to and including the robot in your GPS.
How this post may be read in the context of Hilary Clinton's candidacy and (some of) its discontents?  You make the call.
Image: Jan Van Eyck, The Arnolfini Wedding, 1434.