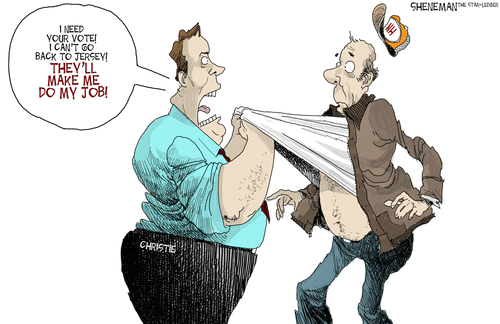 Hardly a game-changer (barely a surprise), but Chris "Krispie" Christie and Carly "Baby Parts" Fiorina have officially suspended their campaigns.
NBC, on Christie:
… The day-long delay in formally announcing his departure from the race was in part due to waiting for the nearly 50 staffers to come together in New Jersey for a personal meeting where Christie could give his thanks directly…
… also to give the media time to lose interest and wander off, in case Christie started screaming at the poor minions. Fortunately, by shivving Rubio so effectively, he should've guaranteed himself a nice cushy schedule of private planes and high-dollar hotel rooms while backing up either Trump or Jeb for the next few months. If only because he's the camel in the old political proverb about keeping him inside the tent, pissing out.
iCarly, per Yahoo News:
… "While I suspend my candidacy today, I will continue to travel this country and fight for those Americans who refuse to settle for the way things are and a status quo that no longer works for them," Fiorina wrote in a statement released Wednesday, one day after finishing in 7th place in the first-in-the-nation New Hampshire primary.

Fiorina vowed to continue fighting against the forces of crony capitalism that she warned in her campaign have led to an unfair partnership between government and the rich and powerful, while disadvantaging normal working class Americans. The only woman candidate in the Republican primary contest, Fiorina also encouraged women and girls to define feminism on their own terms…
That's a lot of delusion/dishonesty to pack into two paragraphs, but then, Fiorina's a pro at both. I always assumed she was actually running for vice president — Palin Mk II — but which of the remaining Repub boys would offer for her?
***********
Apart from schadenfreude, what's on the agenda for the evening?