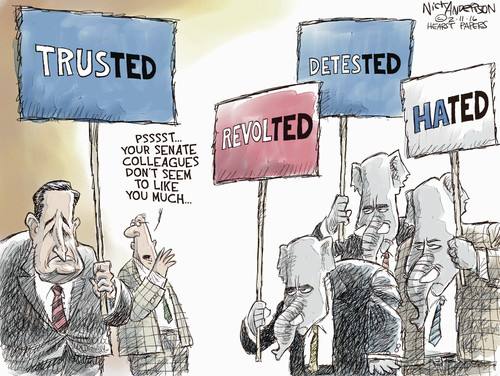 First there was the "voter report card" fraud in Iowa, then the fake fund-raising checks. The Cruz campaign is obviously, publicly comfortable with skating as close to the ethical line as they can get away with. Now the AP is casting some light on Cruz's data-collecting app… and its beneficiaries:
Protecting the privacy of law-abiding citizens from the government is a pillar of Ted Cruz's Republican presidential candidacy, but his campaign is testing the limits of siphoning personal data from supporters.

His "Cruz Crew" mobile app is designed to gather detailed information from its users' phones — tracking their physical movements and mining the names and contact information for friends who might want nothing to do with his campaign.

That information and more is then fed into a vast database containing details about nearly every adult in the United States to build psychological profiles that target individual voters with uncanny accuracy.

Cruz's sophisticated analytics operation was heralded as key to his victory in Iowa earlier this month — the first proof, his campaign said, that the system has the potential to power him to the nomination…

Data-mining to help candidates win elections has been increasing among both Republicans and Democrats. Mobile apps by other presidential campaigns also collect some information about users. But The Associated Press found the Cruz campaign's app — downloaded to more than 61,000 devices so far — goes furthest to glean personal data.

The Cruz app prompts supporters to register using their Facebook logins, giving the campaign access to personal information such as name, age range, gender, location and photograph, plus lists of friends and relatives. Those without a Facebook account must either provide an email address or phone number to use the app…

Cruz's app also transmits to the campaign each user's physical location whenever the app is active, unless a user declines to allow it. The campaign said it does this "so that we can connect you to other Cruz Crew users based on your particular geographic location."

The campaign tells users it can share all the personal information it collects with its consultants or other organizations, groups, causes, campaigns or political organizations with similar viewpoints or goals.

It also shares the material with analytics companies. Cruz's campaign combines the information with data from a group called Cambridge Analytica, which has been involved in his efforts since fall 2014. A Cambridge investor, Robert Mercer, has given more money than anyone else to outside groups supporting Cruz.

Cambridge has a massive 10 terabyte database — enough to fill more than 2,100 DVDs — that contains as many as 5,000 biographical details about the 240 million Americans of voting age. Cambridge considers its methodology highly secretive, but it may include such details as household income, employment status, credit history, party affiliation, church membership and spending habits. Cambridge uses powerful computers and proprietary algorithms to predict Americans' personality traits…

Cruz, the junior senator from Texas, has been outspoken about protecting Americans' personal information from the government, including the National Security Agency. "Instead of a government that seizes your emails and your cellphones, imagine a federal government that protected the privacy rights of every American," he said when announcing his campaign.

Cruz campaign officials say it's different for the government versus a campaign to collect data. Sickle said Cruz is building on the use of big data pioneered by the successful Democratic campaigns of Barack Obama in 2008 and 2012.

"It's not like we're giving it to the NSA," Sickle said.

A campaign spokeswoman, Alice Stewart, added: "Why wouldn't we want to use every tool available to us to win?"…
I'm assuming, apart from disingenuous campaign disclaimers, data mining at this granularity would also be very, very valuable to any corporation large enough to pay either Cruz or Cambridge Analytica. But as long as it's not the nasty, low-minded gubmint getting all up in your psychographics, it's all good — right, Freedumb luvvers?